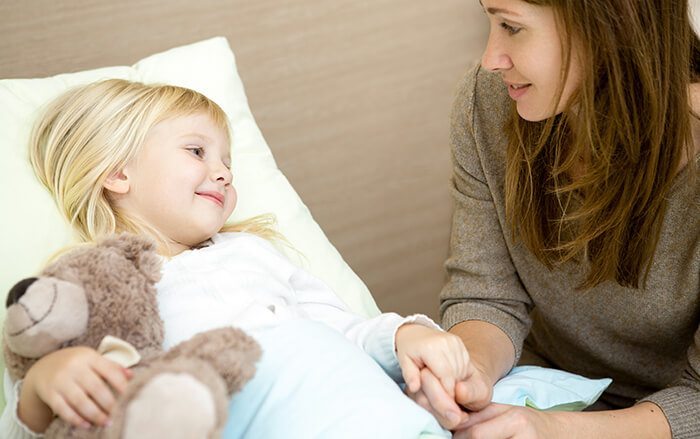 Haploidentical Bone Marrow Transplantation: A breakthrough treatment for thalassemia and cancer patients using family stem cells
Haploidentical Bone Marrow Transplantation
Bone marrow transplantation for patients with blood-related cancers (leukemia) and certain blood disorders (thalassemia) involves replacing a patient's unhealthy blood-forming cells with healthy ones matched with the patient's tissue type. To broaden the pool of potential donors, the Pediatric Hematology and Oncology team at Samitivej Children's Hospital has adopted "Haploidentical Bone Marrow Transplant," in which a healthy first-degree relative – a parent, sibling, or child – can often serve as a donor.
What is Haploidentical Bone Marrow Transplantation?
Bone marrow disorders cause an excess of defective blood cells, which in turn cause the body to produce healthy blood cells at a lower rate. A bone marrow transplant allows for a donor's healthy blood cells to infuse with the patient's blood cells. Once this takes place, healthy blood cell production can resume.
HLAs (human leukocyte antigens) are proteins or markers found on most cells in the body. The immune system uses these markers to recognize cells that belong in the body versus those that do not. As such most bone marrow transplants can only succeed when the donor is a full HLA genetic match with the patient. In many cases, especially with pediatric patients, the waiting period for such a donor can take longer than the patient can survive. The chances of finding a full unrelated HLA-matched donor are as low as 1 in 50,000 people. Parents are always a half-match for their children and vice versa. Siblings have a 25 percent chance of being a perfect match.
Haploidentical bone marrow transplantation has been introduced as an alternative. By using the haploidentical transplantation method, the range of available donors can be broadened, increasing the chance of the patient being cured. This means that in most cases, the biological parents or the biological children of the patient can become donors without having to be a full HLA match.
What is the procedure?
Assessment of the disease in the patient and HLA antibody screening and confirmation in recipient and donor.
Pre-transplantation: in-depth patient health evaluation, donor health history study and evaluation including kidney and liver disease, chronic illness, current medication, prior infection and physical examination.
Transplantation: the following 3 phases usually take a month.

Conditioning chemotherapy to wipe out or diminish the bone marrow and lymph nodes where cancers form.
Collection of stem cells from the donor, and transfer to the patient.
Waiting for donor cells to function effectively in the recipient's bone marrow, which usually taking 2-4 weeks.

Post-transplantation: Calls for follow up every 1-2 weeks for the first 3 months, then less frequently for the following 1-2 years.
Three weeks after transplant, it will become clear whether the patient's body has successfully accepted the new bone marrow. If not, the patient might develop Graft vs Host Disease (GvHD) which may exhibit the following symptoms: rash, vomiting, peeling of the skin, etc. Cases of transplant rejection are rare, but should this take place the effects can be eradicated, or at least reduced by using photopheresis.
The overall transplantation process takes approximately 1.5 – 2 months, a period during which the patient has to stay in the hospital.
After the transplant, the patient must take immunosuppressive drugs for six months.
Who is it for?
Hematologic disease: thalassemia
Hematologic malignancy: leukemia, lymphoma
Solid tumor
Bone marrow failure: aplastic anemia
Primary immune deficiency / inborn errors of metabolism
Haploidentical Transplantation at Samitivej Hospital
Haploidentical transplantation is performed by a multidisciplinary team of Pediatric Hematologists and Oncologists, Pediatric Pulmonologists, Pediatric Cardiologists, Pediatric Psychiatrists, Pediatric Dentists, Dietitians, Pharmacists, Ward Nurses, Lab and Blood Bank Unit Technicians, Infection Control Nurses and more. The team is led by Professor Suradej Hongeng, M.D., Associate Professor Samart Pakakasama, M.D. and Pornchanok Iamsirirak, M.D.
Our facilities include 6 private rooms with HEPA filters and positive pressure ventilation, 4 bone-marrow harvesting facilities in the operating theater, and a high-quality outpatient clinic for adults and children.
Since 2015, Samitivej Children's Hospital has overseen forty-six cases of bone marrow transplant, of which 17 cases were Haploidentical HSCT with 100% one year survival rate and 100% engraftment within 30 days. In 2016, many of our doctors published medical research articles about the success of haploidentical transplantation. (For more information about the research, click here.)
Samitivej is the only hospital in Thailand providing photopheresis, using a machine to prevent and treat Graft Vs Host Diseases (GvHD), or the side effects of bone marrow transplantation in pediatric patients. For more information about bone marrow transplant at Samitivej, visit our center page here.
---
Related Center
---
Recommended Doctor
---