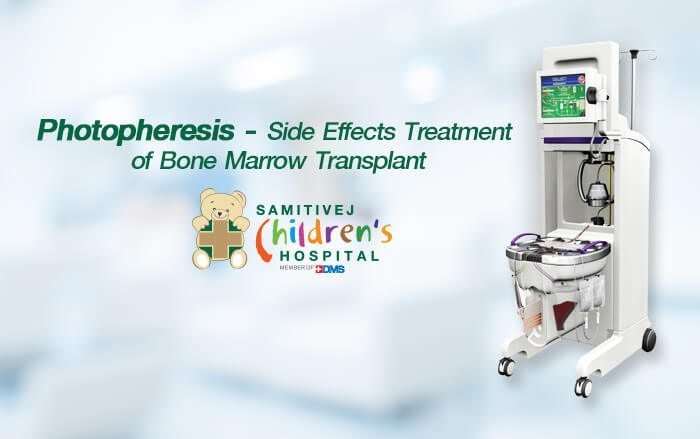 For patients who have undergone a bone marrow transplant, there is a chance they might develop Graft vs Host Disease (GvHD) – a condition born when the donor's bone marrow or peripheral blood stem cells, view the recipient's body as foreign, and the donated cells/bone marrow attack the body. Symptoms of GvHD can be severe and long lasting, especially in children. However, with a procedure called photopheresis, this condition can be successfully prevented and treated.
Who is photopheresis for?
Photopheresis is for patients experiencing Graft Vs Host Diseases (GvHD). This can lead to the following symptoms:
Skin rash
Abnormal blood test results
Vomiting
Diarrhea
Nausea
Yellow discoloration of the eyes or skin
Cramps
Fatigue or muscle weakness
Shortness of breath
Dryness in the eyes or mouth
What is photopheresis?
Photopheresis is a procedure that suppresses lymphocytes, a type of white blood cell that creates immune reactions and triggers symptoms of GvHD.
What is the process of photopheresis?
First, the patient's blood is drawn and processed using a machine that separates white blood cells from red blood cells. This lessens the effects of the white blood cells, preventing them from attacking the patient's new bone marrow. During photopheresis, the white blood cells are mixed with liquid medication before being exposed to ultraviolet light. This process ensures that all diseased cells are destroyed. The blood is then returned to the patient's body intravenously.
The treatment lasts about three to four hours. Most patients will require multiple sessions of photopheresis, the overall process taking about six to twelve weeks. The exact number of sessions will be determined by the doctor according to the nature of the patient's disease.
What are the side effects of photopheresis?
Following photopheresis, the patient may experience a tingling sensation in the fingers or lips, cramps, or lightheadedness. More serious side effects include a drop in blood pressure and a high fever. If these severe symptoms occur, a doctor should be notified immediately. Medication will be provided to lessen the side effects.
What are the precautions after photopheresis?
The main precaution a patient should take after undergoing photopheresis is avoiding sunlight. It is also advised to wear sunscreen and UVA protective sunglasses when outside.
Photopheresis at Samitivej Hospital
Samitivej Children's Hospital is the only hospital in the Asia Pacific Region with a photopheresis machine that can treat children who weigh as little as ten kilograms and are as young as two years old. The Bone Marrow Transplant Program at Samitivej Hospital consists of expert doctors, nurses and support staff who have been specifically trained to use photopheresis. Our facilities include private rooms with HEPA filters for positive pressure, bone-marrow harvesting facilities in the operating room, and a high-quality outpatient clinic for adults and children.
For more information about bone marrow transplants and after care at Samitivej, visit our center page here.
---
Related Center
---
Recommended Doctor
---