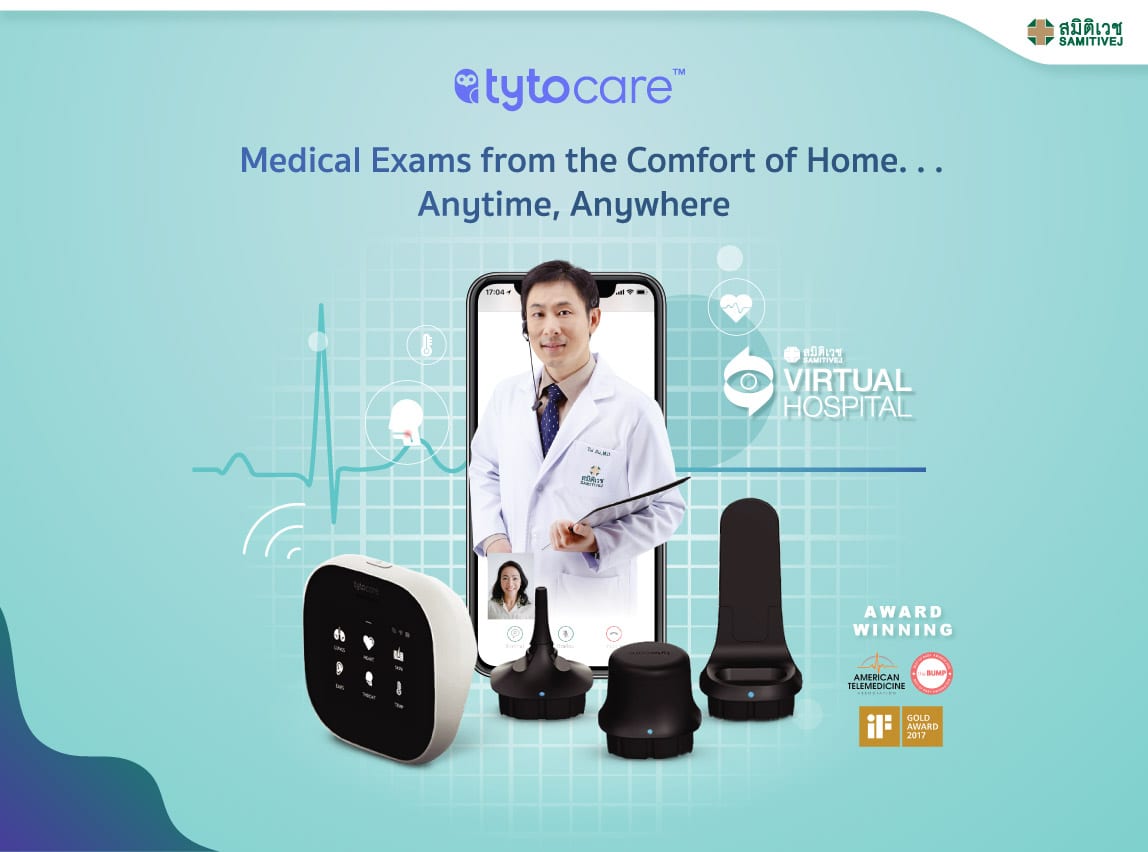 TytoCare—Medical Exams from the Comfort of Home . . . Anytime, Anywhere
TytoCare is an innovative medical exam device in a modern, portable format, designed for use at home by anyone, anywhere. The device enables you to send information to healthcare providers for online consultation and advice 24 hours a day. In Thailand, TytoCare connects you with doctors for online medical consultations through Samitivej Virtual Hospital*, an online telemedicine service that uses technology to allow patients and doctors to interact in real-time. It's just like having a doctor make a house call.
* Samitivej Virtual Hospital , providing online doctor consultation services with international standards, has been a member of the American Telemedicine Association since 2019.
---
Online Examination and Result-sharing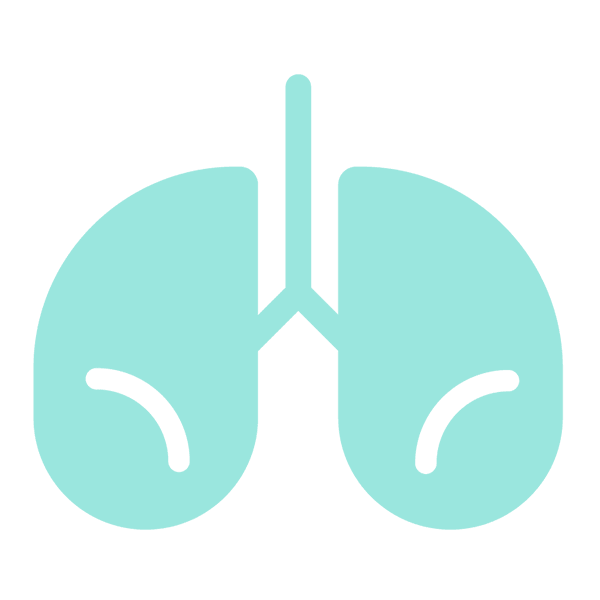 Lung, Heart, and Heart Rate Exams: Listen to and record sounds, and send audio data to your doctor for consultation. Place the digital stethoscope at the designated position on the body and, once the signal is clearly being captured, record the audio.

Ears: Capture images of the inside of the ear and eardrum, and send images and video to your doctor as supplemental data for use in online consultation. Simply connect the otoscope adaptor to the device and slowly insert it into the ear until the eardrum can be seen.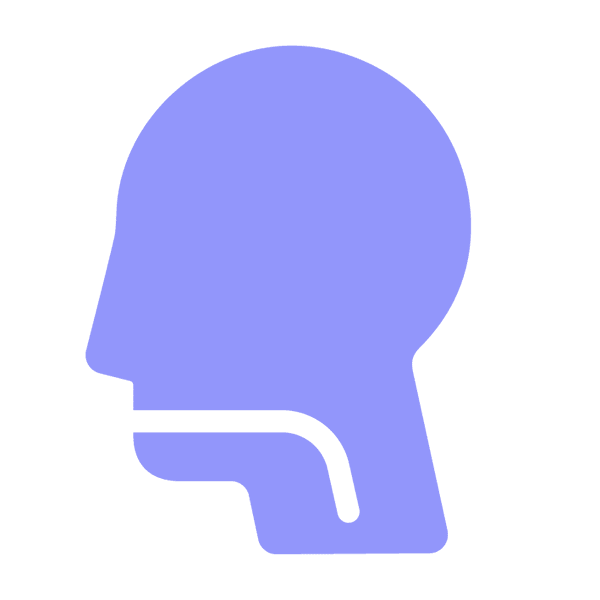 Throat: Use the device's camera to examine the back of the throat (uvula and tonsils). An included tongue depressor will help provide a clear view inside the throat.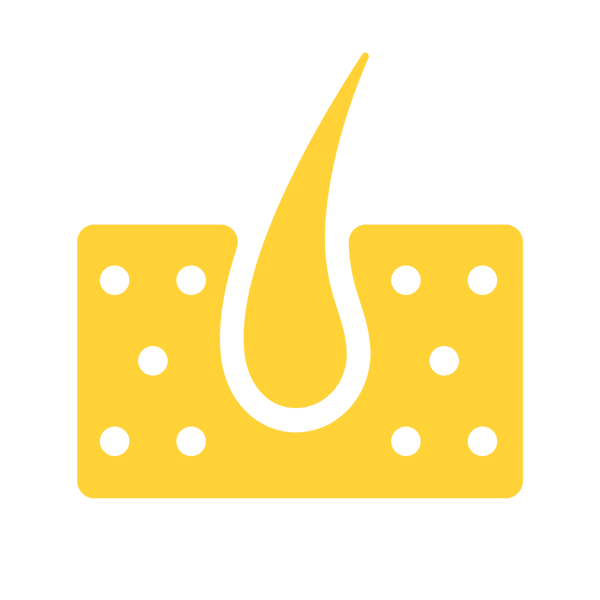 Skin: Use the device's high-definition camera to capture photos and video of the skin surface, and send the recorded data to your healthcare provider.

Temperature: Use the no-touch infrared thermometer to measure your body temperature. Simply point the device at your forehead from a distance of no more than 2 inches.
---
TytoCare Kit Price and Order Information
The price for a TytoCare kit is THB 22,500 includes:
TytoCare device kit with all accessories (TytoHome device, stethoscope adapter, otoscope adapter, tongue depressor adapter, 4 reusable tongue depressors for children and adults, 10 ear caps for children and adults, USB charging cable, mobile docking station, manual and safety guide)
Free first year subscription (valued at THB 2,000). (Subscription fees start from the second year at a price of THB 2,000 per year)
12-month warranty
Free unlimited video consultations through Samitivej Virtual Hospital
Spread the payment in 3 installments at 0% interest. Applicable to all SCB and KBANK credit card holders.
For more information or to place an order, contact us at:  Tel. 02-378-9339
Order form click here
---
Quality Standards and Awards
iF Gold Award for Outstanding Product Design from iF DESIGN AWARD (2017)
Member of the American Telemedicine Association (2017)
Best of Baby Awards from The BUMP (2018)
Certified by the Thai Food and Drug Administration (FDA) (2019)
Certified by the United States Food and Drug Administration (FDA) (2016)
---
TytoCare 24-hour Online Doctor Consultation Procedures
Step 1: Connect the TytoCare device to Samitivej Virtual Hospital via the Samitivej Plus Application to start your video call with a Samitivej doctor.
Step 2: Select the TytoCare equipment needed to carry out the examinations and then capture and send data, images, audio, or video, guided by step-by-step instructions from your doctor.
Step 3: Receive health advice and recommendations from your doctor. If you need to order medication with a doctor's prescription to all over Thailand.
---
TytoCare Online Doctor Consultation FAQs
A: You will need a smartphone or tablet and a Wi-Fi internet connection.
A: TytoCare works with iOS (latest 2 versions) and Android (4.4.4 and above), and is compatible with most Apple iOS and Android OS devices.
A: Yes. TytoCare includes a stethoscope for listening to the heart, lungs, and abdomen; an infrared thermometer; and a digital camera for viewing the ears and throat. The device is designed to provide your healthcare provider with the same type of examination data he or she would collect at the hospital. All devices comply with FDA requirements and have passed multiple performance bench tests versus comparable devices to ensure quality results.
A: Yes. TytoCare is lightweight, compact, and portable. It is designed for all types of remote use. All you need is a smartphone or tablet, and a Wi-Fi connection. It can even be carried with you for use abroad.
A: TytoCare can help a healthcare provider diagnose many common conditions, including sore throats, fever, cold and flu, ear infections, upper respiratory infections, allergies and skin conditions including insect bites, contact dermatitis, rash, and diaper rash.
A: TytoCare provides your doctor with high-quality digital sounds of the heart and lungs; high-quality digital images and video of the ears, throat, and heart rate and body temperature data. Using this examination data, your doctor can provide you with health recommendations and prescription if required.
A: Children must be at least 2 years old.
A: Samitivej Hospital is the first and currently the only provider of online doctor consultation services using TytoCare devices. TytoCare may be purchased at the Health Choice shop at either Samitivej Sukhumvit or Samitivej Srinakarin Hospital branches.
---
In an effort to help combat the COVID-19 pandemic, TytoCare devices are being used at Samitivej and other BDMS group hospitals to help provide preliminary health exams and ensure the safety of all doctors and medical personnel in carrying out their duties. Samitivej Hospitals and BDMS Group have also donated TytoCare devices for use in public hospitals throughout Thailand.
The benefits to the country as a whole are as follows:
Reduces the risk of infection of medical personnel resulting from contact with, and examine, patients with short-term infection risk.
Reduces the number of personnel exposed to infected persons or those with risk criteria for infection, helping to solve issues of hospital personnel shortages.
Reduces the use of personal protective equipment (PPE) because doctors and nurses are able to remotely examine infected patients.
Allows patients to access medical services without having to travel to hospitals where they will be at greater risk of infection.
Provides for the examination of patients in remote areas or those who are currently in quarantine or isolation.
If you have any questions or are interested in ordering a device, you can contact the Health Choice Store at Samitivej Sukhumvit Hospital or Samitivej Srinakarin Hospital, or contact at 02-378-9339.