Keep Your Heart Healthy
Valid: September 8, 2020 - October 31, 2020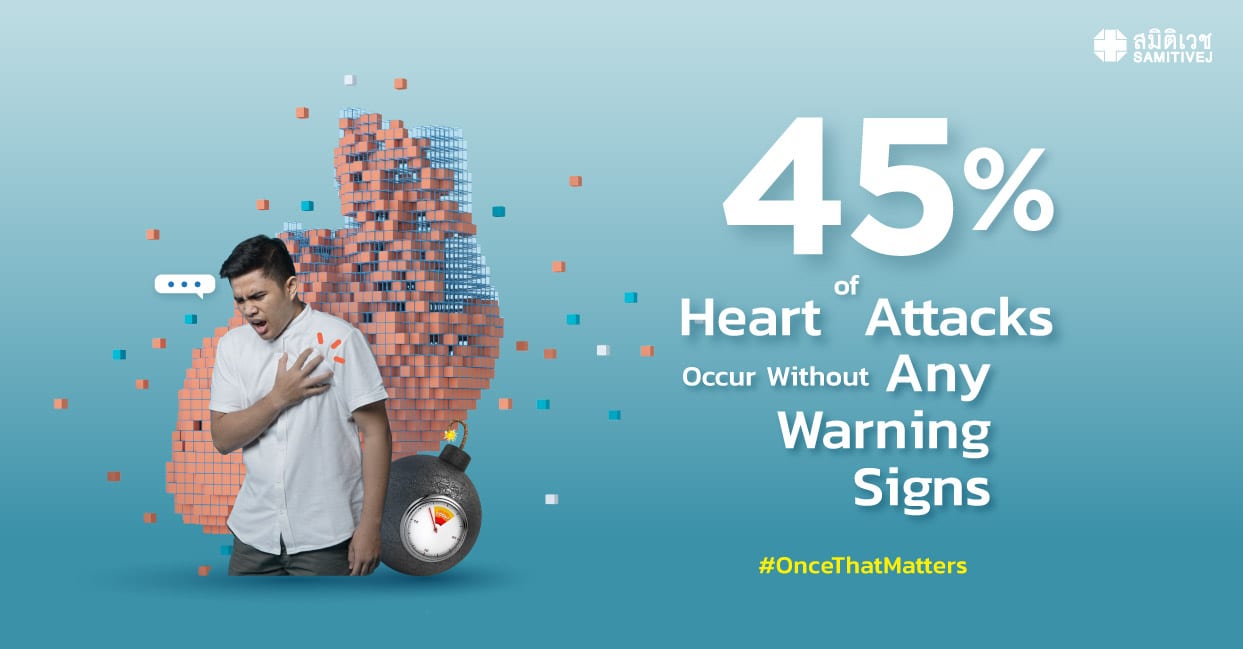 Keep Your Heart Healthy
Heart health screening programs at Samitivej Sukhumvit Hospital
When purchasing any heart health screening program, purchase an influenza vaccine at 860 THB* (from 1,490 THB)
Programs for those who have risk factors of coronary artery disease including high blood pressure, diabetes, high cholesterol, smoking, obesity or a family history of coronary artery disease
Price
(THB)
CT Calcium Scoring Program
5,500
(From 10,000)
Coronary CT Angiography (CTA) to Assess the Coronary Arteries (640-slice CT scan)
17,900
Heart Health Screening Program with Exercise Stress Test (EST) | Detail
10,000
(From 12,085)
Heart Health Screening Program with Echocardiogram (Echo) | Detail
11,000
(From 13,185)
Heart Health Screening Program with Stress Echocardiography (Stress Echo) | Detail
12,000
(From 14,385)
Remarks:
Price includes doctor's fees and outpatient service fees.
Programs available only to Thai nationals and foreigners residing in Thailand
When purchasing any health check-up program, receive a coupon to purchase a stroke screening program (Ultrasound Carotid Doppler at 3,500 baht (from 6,500 baht). For more information, please contact the Neurology Center, Counter 4, 1st Floor, Building 1
*For specially priced influenza vaccine, please contact the Vaccine Center, Counter 3, 1st Floor, Building 1, Samitivej Sukhumvit Hospital
Promotions available through October 31, 2020
For more information or to schedule an appointment please contact Live Chat staff or send us an inquiry.
---
Heart health screening programs at Samitivej Srinakarin Hospital
When purchasing any heart health screening program (Heart 1-3), purchase an influenza vaccine* at 860 THB (from 1,490 THB)
Programs
Promotion Price
(THB)
From
(THB)
Heart Health Screening Program (Heart 1) | Detail
3,900*
5,500
Heart Health Screening Program (Heart 2) | Detail
6,900*
12,000
Heart Health Screening Program (Heart 3) | Detail
15,000*
25,000
Exercise Stress Test (EST) Program (1 person)
2,500**
4,600
Exercise Stress Test (EST) Program (2 people)
4,600**
9,200
CT Calcium Scoring Program
2,000*
10,000
APOE Genotype Test for Coronary Artery Disease Risk (results available 10 days after test) | Detail
3,280*
–
Remarks:
*Price includes doctor's fees and outpatient service fees
**Price excludes doctor's fees and outpatient service fees
Promotions available only to Thai nationals and foreigners residing in Thailand
For more information or to schedule an appointment please contact Live Chat staff or send us an inquiry.
Promotions available through October 31, 2020