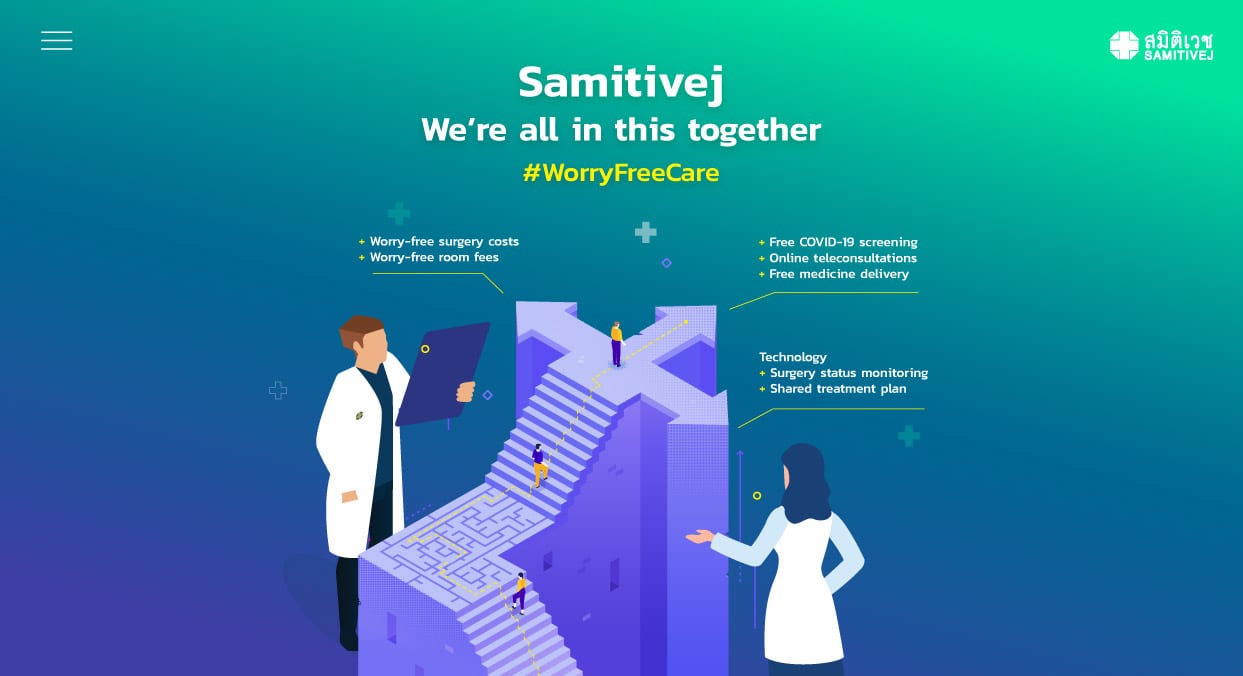 Worry-Free Care
Alleviating concerns about treatment, surgery, and hospitalization
Samitivej Hospital is volunteering its expertise to help our patients recover and thrive—we're all in this together—with the launch of our #WorryFreeCare campaign, which extolls the virtues of using innovative medical technologies to provide a range of medical services for our patients in a safe way. The campaign aims to reduce expenditures with regard to the COVID-19 pandemic, while strengthening health and improving the overall quality of life for our patients.
The COVID-19 pandemic has led to widespread changes throughout the world, and the use of mobile phone apps helps keep us up-to-date on a range of issues. In terms of the public health system, telemedicine, along with an increased focus on healthier lifestyles, has led to a "New Normal" way of life. Samitivej Hospital has developed a range of systems and technologies, including our Samitivej Plus application which enables users to make appointments and view their treatment history, and the Samitivej Virtual Hospital which allows users to consult with doctors online. We offer a collection of medical devices and applications that significantly simplify the process of receiving healthcare.
For patients requiring care at the hospital, our "Worry-free Care" campaign will help alleviate concerns with a "worry-free approach" to treatment costs and transparent surgery package pricing. Patients and their families can feel at ease and free of concerns with the first-of-its-kind-in-Thailand inpatient treatment planning and surgery status tracking technology. Additionally, our online doctor consultation services and free nationwide drug delivery help us to deliver the best treatment possible without needless worries or concerns. #WorryFreeCare
TytoCare — Medical Exams from the Comfort of Home . . . Anytime, Anywhere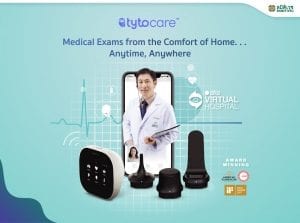 TytoCare is an innovative medical exam device in a modern, portable format, designed for use at home by anyone, anywhere. The device enables you to send information to healthcare providers for real-time online consultation. In Thailand, TytoCare connects you with doctors for 24/7 online medical consultations through Samitivej Virtual Hospital*, an online telemedicine service that allows patients and doctors to interact in real-time.

TytoCare is a health monitoring device that allows for examination of the lungs, heart and heart rate, ears, throat, skin, and body temperature, and enables you to send information to healthcare providers in real time.

For additional information, click
Samitivej has presented 200 TytoCare devices to public hospitals to assist in their fight against COVID-19 by aiding examinations, lessening infection risk and reducing expenditures associated with the COVID-19 outbreak.
How to use Tytocare VDO "click"
ENGAGE CARE | Real-time Healthcare Monitoring and Tracking Service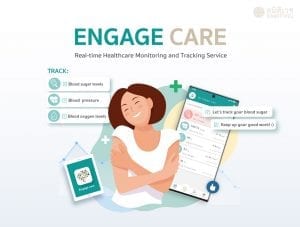 Engage Care provides online healthcare monitoring and tracking services available via the Engage Care mobile application and supported by a team of medical professionals providing services 24 hours a day. When used in conjunction with basic health measurement equipment, the app delivers added convenience and accuracy in data recording and collection. With Engage Care, you can measure blood sugar levels, blood pressure, and blood oxygen levels, as well as record weight and body temperature.

Suitable for bed bound patients or for patients with medical conditions that require constant health monitoring, such as diabetes, high blood pressure, stroke, etc.

For additional information, click
Samitivej PACE technology enables families to view the status of a surgical procedure via smartphone. Relatives can monitor each stage of the patient's surgery, such as seeing whether the patient is in the operating theater or the recovery room. Samitivej PACE also provides secure access to health data and other relevant information, and patients can receive advice on pre-surgery preparations and post-surgery care—including room information—and directly contact hospital staff.
Samitivej Prompt provides access to inpatient treatment plans. This allows patients and their families to be aware of daily activities, such as scheduled doctor visits, body temperature measurements, vital sign monitoring, etc. Using the service, patients can select service times and manage scheduling, view details of the doctors and nursing team providing their care, use the message system to contact their primary doctor, monitor their status during treatment, view medical fees and expenses, and get information about their hospital discharge process.
6 Principles1 to Alleviate Concerns About Medical Fees:
Worry-free surgery costs2 – Transparent and verifiable package pricing. Patients are able to inquire about all package details, including the methods and techniques used in surgery (open surgery or minimally invasive surgery 

with or without incisions

), the medical supplies being utilized, the type of patient room available, and insurance claim eligibility (Samitivej has an insurance department on hand to assist patients with their claims so they may plan their expenditure in advance). Service users are unable to utilize their surgery package in cases where medical complications arise, where patients have a previously undiagnosed underlying health condition, or in cases with acute symptoms.
Please contact a member of staff through our Live Chat for more information about surgery insurance programs and additional information.
Worry-free room fees3 – When a patient's stay is longer than specified in the package. 

Once doctors have diagnosed the patient's condition and recommended surgical treatment, they will provide a basic outline of what is involved with the procedure. This includes, for example, pre-surgery preparations, details of the surgical method or technique being used, length of time necessary for the surgery, recovery times and post-surgery care. It is for these reasons that patients can be confident in their surgical program. Nevertheless, doctors may recommend additional recovery time after carrying out their post-surgery assessment. Samitivej will waive room fees on the first night of overstay, as specified in the package.  

Worry-free complimentary COVID-19 screening –

For inpatients preparing to undergo surgery, and

for the safety of patients and medical staff.

Worry-free room fees in excess of your insurance claim4 – For patients claiming hospital stay.
Worry-free treatment –

Patients need not travel to the hospital for postoperative monitoring

(at the discretion of the doctor)

. Instead, they can use our online doctor consultation service via Samitivej Virtual Hospital, with fees starting at 500 baht for each 15 minutes and free drug delivery services nationwide.
Worry-free surgery and treatments – Using Samitivej Pace to monitor inpatient surgery status, and Samitivej Prompt to follow a patient's treatment plan through.
Remarks:
Available only to Thai nationals and foreigners residing in Thailand
In case there are no complications during treatment that occur because of a patient's pre-existing health conditions
The hospital will waive fees for standard rooms (Superior room at Samitivej Sukhumvit Hospital or Standard room at Samitivej Srinakarin Hospital) on the first night of overstay, as specified in the package
For standard rooms only (Superior room at Samitivej Sukhumvit Hospital or Standard room at Samitivej Srinakarin Hospital)
Related content