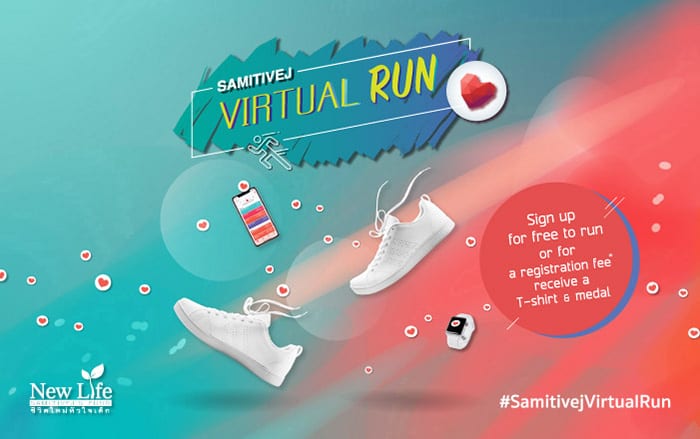 For Every 100,000 km ran,
Samitivej gives a free heart surgery to 1 child
Join us, be a heart saver!
Support heart surgery for 12 children
Samitivej Virtual Run is a chance for all runners to come together and run for the "Samitivej New Life Fund". The fund has been set up to provide heart surgery for infant patients lacking the financial resources to pay for the procedures. Samitivej Virtual Run will exchange every 100,000 kilometers the community runs for one heart surgery. Our aim is to provide all 12 heart surgeries.
We would therefore like to invite you all to come together and run to give these children a new lease of life – and at the same improve your own fitness.
Event dates
Accumulate your running distance from February 14 – May 31, 2019.
Where to run
Our "Virtual Run" allows you to contribute every run, anywhere, anytime.
1. Donor Runner (450 THB):
– You receive a commemorative T-shirt, medal, e-Bib and e-Certificate. 30 lucky runners can win a free VO2max fitness test (value 4,000 THB).
– Transfer ฿450 with a shipping fee of ฿70 for 1 runner, ฿90 for 2 runners and ฿120 for 3 runners. Shipping to same postal address for up to 3 runners.
– Registrations from February 1-28, 2019
2. Free Runner:
– You receive an e-Bib and e-Certificate
– Registrations from February 1-May 31, 2019
Remark: The commemorative T-shirt and medal will be sent to runners early March, 2019 (exclusive to those who register as Donor Runners for 450 THB)
1. Add the official @Samitivej Line account
On the @Samitivej Line account menu, click "Sign up" for Samitivej Virtual Run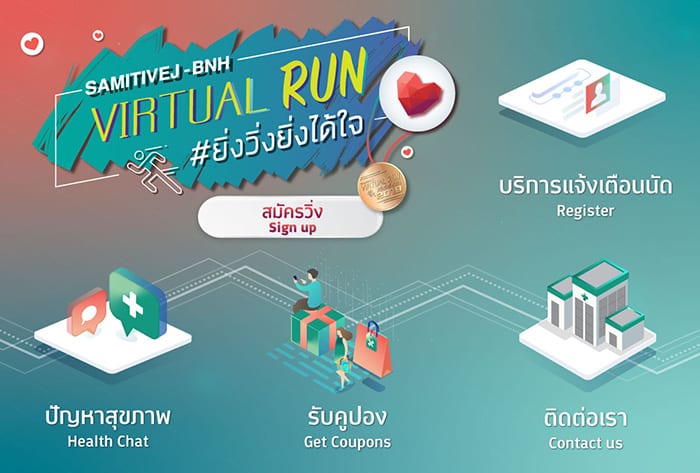 2. Select the type of registration
– Register with donation of 450 THB
– Register to run for free
3. Fill in your shipping address (only if you have registered via a donation).
4. Click "add applicant to the same address" and input your personal information, including T-shirt size. You can also select the type of registration at this stage, followed by clicking "record information".
– For applicants who wish to run alone, please select "no team".
– For applicants who wish to run as a team, please select the name of the team you would like to join.
5. Once registration is complete, you receive a confirmation email with your e-Bib.
Payment can be made through a bank transfer to Thanachart Public Co., Ltd., Samitivej Branch, Sukhumvit 49, account number: 003-2-00549-0, followed by providing proof of payment:
1. Click "Sign up" in the Samitivej Virtual Run menu on the official @Samitivej Line account.
2. Click "Log in" and type in your e-Bib number.
3. Click "Send proof of payment".
4. Attach bank transfer slip.
5. Applicants will receive an email confirmation once payment has been verified.
On @Samitivej Line account, click "Submit running distance" in the Samitivej Virtual Run menu to record and track your running distance. You can also see runners who have accumulated the highest daily distances throughout the event's duration.
Other rules are as follow
Runners can start accumulating running distances from February 14, 2019, onwards
No more than 3 runs can be submitted per day.
Only runs from that day may be submitted. No runs from previous days can be submitted.
Where the distances covered do not conform to the event's rules and regulations, the running distance for that day will be reset to 0 (zero).
For any questions please contact our customer service at info@samitivej.co.th