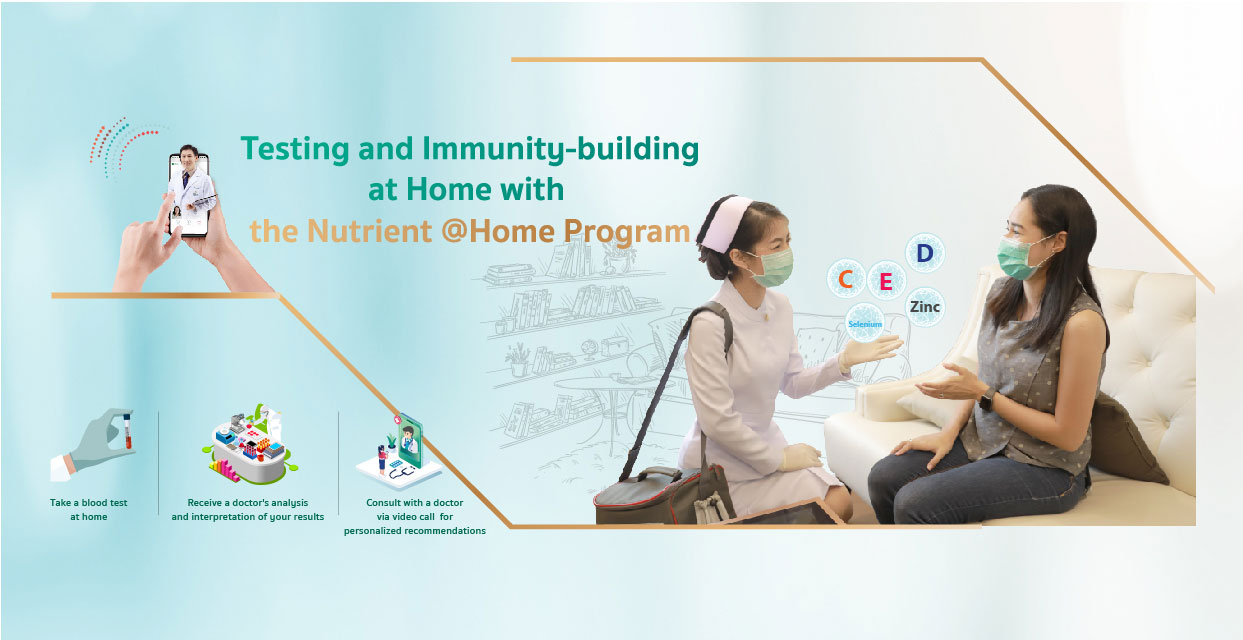 Testing and Immunity-Building with Nutrient @Home
Vitamin and mineral blood testing program to support the immune system (vitamins B12, C, D and E, selenium, chromium, zinc, calcium, magnesium, ferritin, folate)
Personalized recommendations and advice from a doctor regarding food and vitamin intake
Special price of THB 15,500 (from THB 22,000) (Chat with us using Live Chat)
This program is suitable for:
Men and women aged 18 and above who are interested in knowing the vitamin and mineral levels they need for a healthy immune system
Those who are easily fatigued, often get sick, have frequent colds, or have allergy-like symptoms such as coughing, sneezing, and runny nose more than 2 times per year
Those who do not eat a healthy diet comprising all 5 food groups
Vegetarians
Those who should consult a doctor before purchasing the program:
Pregnant or breastfeeding mothers
Patients with chronic medical conditions such as high blood pressure, diabetes, heart disease, dyslipidemia, SLE, rheumatoid arthritis, cancer, etc.
Patients previously diagnosed with health issues involving the liver, kidneys, intestines, or any disorder related to food absorption and excretion
Conditions
Price includes offsite hospital service fees, blood collection fees, and analysis and interpretation of results by a doctor but excludes vitamins or supplements the patient wishes to purchase after their doctor consultation.
This program can be undertaken without the need for a doctor's visit prior to the blood test, as it is a general test that checks for the levels of vitamins and minerals normally present in the body. There may be additional fees for video-call consultation with a doctor for supplementary medical recommendations or advice, such as regarding other vitamins, minerals, or supplements that should be added according to the patient's lifestyle, or to find out whether or not certain types of hormones will have an effect on one's health at a given time.
This program is available to existing patients and to new patients interested in this service.
If interested, please call the Life Center directly
Those interested in having a blood test at home may request a consultation with a member of our Life Center nursing team by calling 020-222-750 or 020-222-059.
The Life Center nursing team staff will inform you of all fee details so that you can make payment prior to your home blood test appointment. The nursing team will also provide you with advice on how to prepare yourself for your blood test.
It takes approximately 7 days for the results of your blood test to be returned. Life Center staff will schedule an appointment for you to receive your results from a Life Center doctor via video call.
Medical Team Providing Care and Services in this Program and Other Life Center Programs
Remarks 
Price includes hospital service fees, blood collection fees, and analysis and interpretation of results by a doctor.
For more information please contact the Life Center, Samitivej Sukhumvit Hospital at 020-222-750 or 020-222-059, or info@samitivej.co.th
Available through December 31, 2020