Nursing Services Organization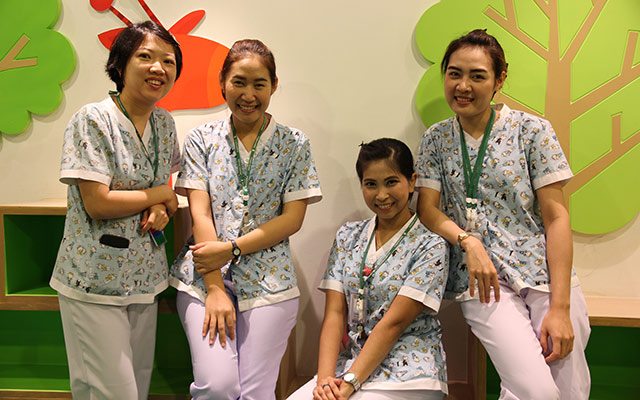 Join Samitivej's nursing team and #BeTheBEST
If you are interested in a nursing career with Samitivej Hospital, let us know by filling out the following form. We will contact you soon with more details.
BALANCED
"Enjoying life and loving your job can go hand in hand."
Your job does not need to overwhelm every aspect of your life. Say goodbye to an unhealthy lifestyle, a non-existent social life and stressful weekends! Working at Samitivej means a well-earned salary, a balanced lifestyle and a job which is more than "worth it." We also invite you along on our many trips and events where you can have fun and let your hair down with your colleagues. It is important to us at Samitivej that our nurses enjoy a good quality of life as much as they enjoy working at our hospital.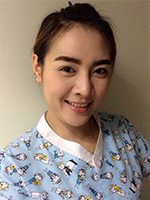 "No matter how hard we've worked, the hospital always makes sure we can join in the fun, especially during holidays and festivals. For Songkran, I even had the chance to join the Miss Songkran competition and came in second! I'm so glad that I have a job where I can still have fun and be happy."
– Kwan (Phannika Chombunrueng)
EDUCATED
"Grab the chance to learn from the very best."
Learning is an exciting process that never ends. Being a Samitivej nurse means you get to work with and learn from the best doctors and specialists every day. You can also attend our medical conventions and seminars which are led by leading medical figures from Thailand and all around the world. We provide our nurses with many other educational resources, the most exciting being a free and unique e-Learning experience focused solely on the subject of pediatric nursing. Find out more about this thrilling opportunity here.
Learn more about our e-Learning opportunities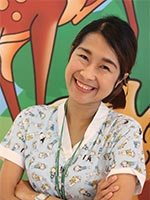 "As a new graduate working at Samitivej, I have discovered that learning is a process which never ends. Here, we have the opportunity to attend workshops, nursing conferences and journal clubs. The SMICH E-learning program is especially informative and allows me to learn anywhere and anytime. I also have the chance to travel overseas and learn more about nursing there. I really feel that I am equipped to develop and better myself here."
– Bee (Surinda Wongpun)
SUPPORTED
"Join our close-knit team where everyone matters."
Scary doctors? Uncooperative managers? Fear not. Here at Samitivej, we take great pride in building strong and inspiring medical teams where every role is valued equally. Not only is the work of our nurses made more effective by modern technology and facilities, but also we believe that we can only work to the best of our abilities when our doctors, nurses, and management share a strong bond. We are happy to provide our nurses with a healthy work environment, a daycare for their children, and a caring group of professionals to be a part of.
Let us take care of you.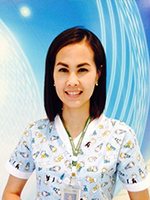 "Working as a Samitivej nurse means I am always supported by the best technological equipment and facilities. With our "Team Up, Power Up" policy, we also place a great emphasis on creating strong working relationships between doctors, nurses and managers. I have become more motivated and my job has become so much easier here because I feel inspired and supported by our great medical team."
– Nook (Paweena Thiantananurak)
TRULY CARE
"Be the one who makes a difference."
Join us on our mission to provide the best possible health care for our patients and help make lives better for our community. On a daily basis, you will have the chance to make a mark in the lives of your patients and form personal bonds that can leave a lasting impression. You can also be a part of something special with our New Life Foundation and our many other charitable initiatives, all within a constructive and caring environment.
Every good thing you do – no matter how small – matters.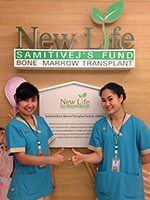 "Not only do we get a chance to take care of our patients and make a difference in their lives, we also get the chance to give new life to others. We are proud to be a part of Samitivej's many charities, especially the New Life Foundation where we help many underprivileged patients. We have received so many good things from working at this hospital, it is amazing that we also have the opportunity to give back to others as well."
– Mai (Pitchayaporn Putthaso) & Amp (Supattra Krawfong)
Recommended Videos
Together We Are One
Samitivej Children's Hospital is celebrating the first anniversary of our collaboration with Doernbecher Children's Hospital, Oregon Health and Science University (OHSU), a leading children's hospital from the United States.
News & Events
Health Articles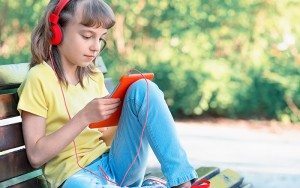 Normal puberty for young girls usually starts at around nine to ten years of age, and for young boys at about 11 to 12 years of age. Learn more about early puberty and its physical and psychological effects.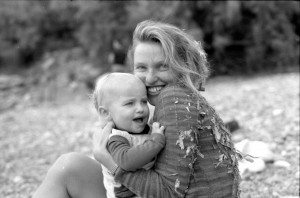 If your child has a fever, becomes listless, cries often, does not play as usual, eats and drinks less than normal, and feels pain when urinating, it is easy as a parent to spot that something is not right and take the child to the hospital for diagnosis and treatment of urinary tract infection.