Giving Children The Gift of Life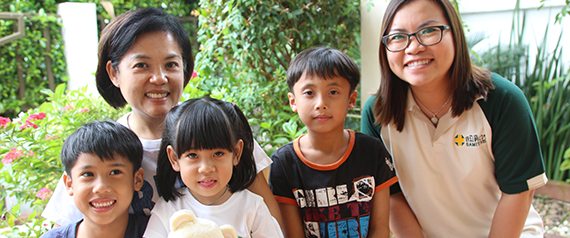 What We Do
Samitivej's New Life Fund was established to provide underprivileged children with access to high quality surgical treatments. Through the generous donations of the foundation and the hard work of our doctors, children suffering from heart disease or requiring a bone marrow transplant can get a new chance at life.
In honor of His Majesty The King's 88th birthday in 2016,  Samitivej's New Life Fund also aims to perform surgeries for eight underprivileged children suffering from scoliosis.
Why We Do It
We believe in bringing high-quality healthcare to those who need it most. There are roughly 7,000 to 8,000 babies born with serious heart conditions in Thailand each year, 20 percent of whom cannot survive for long without surgery. Scoliosis is another condition which affects children from infancy, sometimes until they reach adolescence. One in every 10,000 Thai children suffer from scoliosis. If left untreated by a specialist, the overall health and day to day life of the child can be greatly damaged.  The child's heart and pulmonary system can suffer if the condition worsens, potentially causing fatalities.
There are also many children suffering from cancer and other genetic diseases who are in desperate need of bone marrow transplants, but are not able to afford them. Leukemia is one of the top 10 types of cancer found in Thai  children of all ages.
"We want to give these children and their families the chance to live, as well as improve their quality of life. We want to give them a new life and brighter hope," said Dr. Chanika Tuchinda, Chairman of Samitivej Srinakarin Hospital and the President of the Samitivej Heart Fund. "Samitivej is in a strong position to do so with a great pool of specialists and medical teams, as well as state-of-the-art equipment and technology that makes us ready to provide pre- and post-surgery care to these young children."
How We Do It
Samitivej Children's Hospital is home to highly trained medical teams and specialized facilities, such as certified Positive Pressure rooms for fighting infection. Led by Dr. Suradej Hongeng, Prof., M.D., the Samitivej New Life Foundation has successfully performed bone marrow transplants for children with acute and chronic leukemia, aplastic anemia, certain types of lymphoma, and such commonly found genetic diseases as thalassemia. This challenging procedure requires an appropriate donor, and the cost can reach six or seven digits, an amount many families simply cannot afford.
Our pediatric heart surgeons also work with the foundation to perform lifesaving surgeries on children with congenital heart defects. Dr. Nattipat Juthacharoenwong, Sgn. Ldr., M.D., chief of pediatrics and a specialist in Pediatric Cardiology, has successfully operated on more than a hundred children through the New Life initiative.
The Children
Through the efforts of the foundation, parents of up to 100 children who could never have hoped for the required surgeries have been able to bring home happy, healthy children. Hear from two of these families: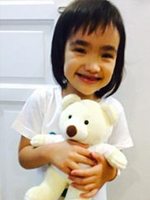 "When I knew that my daughter had a congenital heart disease, I wondered why it had to happen to her. Thank you to Dr. Thaworn, Dr. Nattipat and all of the nurses for treating and looking after my daughter.I know that she's happy now because she has a better life. From now on, I can take her somewhere else on my leave instead of spending my leave on taking her to hospital. Thank you."
– Mother of Nong Sirapapat (Chicha), who received open heart surgery through the Foundation at nine months old.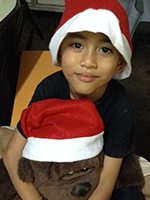 "When I first knew that my child had an atrial septal defect with mitral stenosis, I was very worried and thought about what I should do to help him. Thank you to Samitivej Hospital for giving my child a new life and a future. He had the surgery and received excellent treatment. I don't know anything else to say except, thank you."
– Mother of Nong Tosawat (Focus), who received open heart surgery through the Foundation at a very young age.
How You Can Help
You can play an important part in providing more children with the surgeries they desperately need.
Donation boxes can be found at cashier counters at Samitivej Sukhumvit, Samitivej Srinakarin, and Samitivej Sriracha. For the entirety of 2015, 10 Baht from the treatment of every outpatient and one hundred Baht from the treatment of every inpatient is also donated to the New Life Fund.
You can also make a contribution to the following accounts:
TMB Savings Account "Vajiravej Vidayalai Chalermphrakiat Foundation for Samitivej Bone Marrow Transplants Fund", account number 196-2-08746-4.
TMB Savings Account "Vajiravej Vidayalai Chalermphrakiat Foundation for Samitivej Heart Fund", account number 196-2-08745-6
For further information or possible volunteering opportunities, please contact:
Our call center at (+66) 2-022-2222

Information about tax reduction (+66) 2-378-9234
Information about heart surgery (+66) 2-378-9101
Information about bone marrow transplants (+66) 89-477-7764
We thank you for your generosity. Together we can make a difference.
---
See more miracles – follow us on Instagram #SamitivejHasHeart