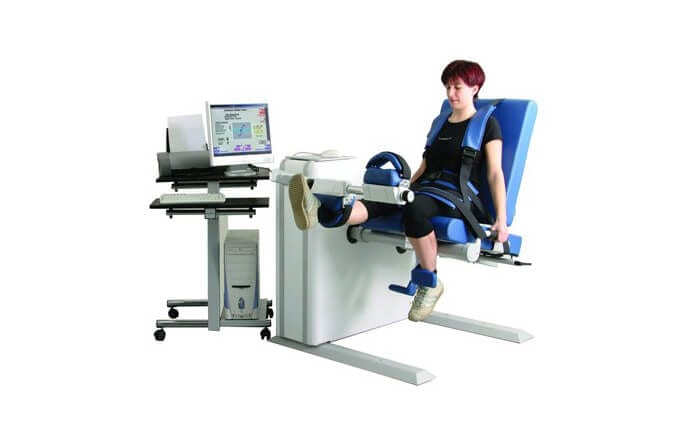 Isokinetic is a word that explains a certain type of movement. It is most frequently used in the medical profession, particularly within sports medicine. Isokinetic refers to movement at a constant speed, whether the force used in that movement changes variable. Additionally, unlike isotonic movement can refer to the fixed forces that we exert on objects in our daily lives, such as lifting a glass to drink, whereby the weight of the object remains stable, but the speed with which we lift the glass may differ each time.
In terms of exercises or muscle tests that utilize isokinetic devices, the device can be set up to operate at a certain fixed speed. The device will then adjust the resistance automatically, so that the operator's joints retain the same speed of movement. For example, if the operator tries to deceive the device by applying more power, the device will automatically adjust its resistance to a higher level to adjust to the programmed speed.
Isokinetic devices have been utilized internationally for over 30 years for muscle training and therapy. Isokinetic devices are considered to be the most effective tools for testing the efficiency of muscles. They are the preferred tool for the training and rehabilitating of muscles of patients who have undergone joint surgery – especially patients who have undergone knee surgery. The Sport and Orthopaedic Center at Samitivej Sukhumvit Hospital has therefore introduced the use of isokinetic devices for the following reasons:
To assess and evaluate muscle and joint function, such as in the shoulder joints, elbow joints, hip joints, knee joints and ankle joints. This will assist in the planning of exercise and training programs for athletes, or for those who love to exercise.
To support strength conditioning and muscle memory for athletes, patients and the public.
To aid the rehabilitation process of patients, athletes and those who have sustained sports- and exercise-related injuries, as well as to help recover from surgery, in order to enable a swift return to daily life.
Recommended Doctor
---