HIGHLIGHTS:
Developed by scientists in Canada, the UV (ultraviolet) Index is an assessment of a location or time period's ultraviolet radiation exposure.
Thailand's UV Index rating has consistently averaged 11-12 for the past 8-9 years, meaning the levels of ultraviolet radiation in the kingdom are categorized as extremely high.
Medical professionals recommend that sun cream products with an SPF rating of 30 or above and a PA 3+ rating are applied regularly to the face and other exposed areas to ensure the long-term health of your skin.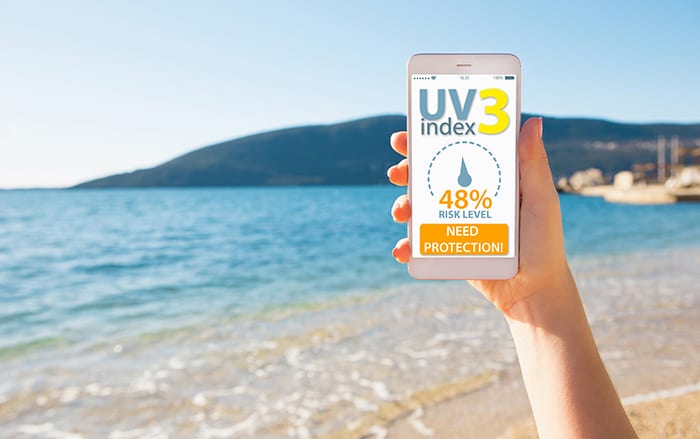 The news regarding Thailand's UV Index rating being one of the most dangerous has caused uproar on social media. This score is especially high during the month of April, making this the month when people should be most aware of taking the appropriate precautions due to the danger posed by the sun.
Developed as a linear equation by Canadian scientists in 1992, the UV (Ultraviolet) Index is an internationally recognized assessment of a location's or time period's ultraviolet radiation exposure. The index was then modified for use by the World Health Organization and the UN's World Meteorological Organization in 1994, making it the current standardized form of assessment for daily and hourly ultraviolet exposure forecasts.
While the UV Index is not a new phenomenon, with the Meteorological Department of Thailand reporting each province's main UV Index scores for the past 10 years, these scores have not yet been as popular in the news as they are now. Those wishing to view these scores may do so by visiting the website for the Thai Meteorological Department here: UV Index Thailand . The website updates its data every five days.
Generally, the UV Index strength rating can be categorized as follows:
UV Index

color rating/strength level

Preventative measures

0–

2.9

Green "low strength"
Wear sunglasses on clear days and use sun protection if the location has snowfall that may reflect the sun's UV rays (in some countries)
3–

5.9

Yellow "moderate strength"
Wear clothing to protect the skin. If it is necessary to spend time outdoors, avoid doing so during the middle of the day as this is when the sun's rays are at their strongest.
6–

7.9

Orange "high strength"
Wear clothing that offers UV ray protection and apply sun cream that has an SPF rating of over 30 and a PA rating of 3+. Also, wear a hat and sunglasses while ensuring that no longer than three hours per day are spent outdoors.
8–

10.9

Red "very high strength"
Apply sun cream that has an SPF rating of over 30 and a PA rating of 3+. Wear a wide-brimmed hat and sunglasses while also ensuring that any time spent outdoors is kept to a minimum.
11+
Purple "maximum strength"
Extreme care should be taken, including the application of sun cream that has an SPF rating of over 30 and a PA rating of 3+. Long-sleeved tops, trousers, wide-brimmed hats and sunglasses should all be worn while any time spent outdoors should not total more than three hours per day.
There is no reason to panic when looking at Thailand's high UV Index rating as the score has always been high. Thailand's UV Index rating regularly reaches extreme levels of 12-14 over a number of days each month, while the average UV Index rating of Thailand has been around 11-12 for the past 8-9 years.
Nevertheless, those who regularly suffer from sun burn after spending around 15-20 minutes in the sun could be putting themselves at risk of eye disorders while the sun's ability to damage their skin's DNA structure could also be a potential factor behind the onset of skin cancer.
However, becoming aware of this danger later in life is still better than never realizing the harmful potential of the sun's rays. Hence, you should ensure that you take care of your skin by regularly applying sun cream to your face and body, with doctors recommending products that have an SPF rating of 30 or above and a PA rating of 3+ for most effective protection.
These should be applied whether you live in the city, upcountry or by the sea, as the UV Index does not significantly differ from place to place. Young infants and adults who suffer from sensitive skin conditions or allergies to sun rays should avoid direct sunlight between the hours of 10 a.m. to 3 p.m.
Where outdoor activities are unavoidable, precautions should be taken in the form of hats, UV-protective sunglasses, adequate clothing and umbrellas to ensure the long-term health of your skin and eyes.
What can be done to treat sunburn?
If your skin has been burned to the extent that it stings when touched, first aid can be administered through the application of aloe vera gels or after-sun gels containing substances capable of reducing skin irritation. Following the arrival of symptoms, such gels should be applied in the mornings and evenings until those symptoms are alleviated.
However, if your sunburn is so severe that it is causing you anxiety, you should consult a doctor who can help you to treat your symptoms effectively. Currently, there are various technologies available, such as cool lasers and Omnilux skin therapy – a technology that utilizes light emitting diodes – that can help reduce inflammation and quickly rehabilitate the skin after overexposure to sunlight.
---
Related content
Reference list
Hanneman K.K., Cooper K.D., Baron E.D. (2006), Ultraviolet immunosuppression: mechanisms and consequences. Dermatologic Clinics, 24 (1): 19–25.
Fioletov V., Kerr J., Fergusson A. (2010), The UV Index: Definition, Distribution and Factors Affecting It. Canadian Journal of Public Health, 101 (4): I5–I9.
Gies P. et al (2011), UVR Emissions from Solaria in Australia and Implications for the Regulation Process. Photochemistry and Photobiology, 87 (1): 184–190.
Gerber B. et al (2002), Ultraviolet Emission Spectra of Sunbeds. Photochemistry and Photobiology, 76 (6): 664–668.
Hornung, R.L. et al (2003), Tanning facility use: are we exceeding Food and Drug Administration limits?. Journal of the American Academy of Dermatology, 49 (4): 655–661.
Recommended Doctor
---