Mr. Nito Lim discusses the birth of his twins following a complicated case, and the treatment his wife received from Dr. Boonsri and the dedicated staff at Samitivej.
On choosing the right hospital: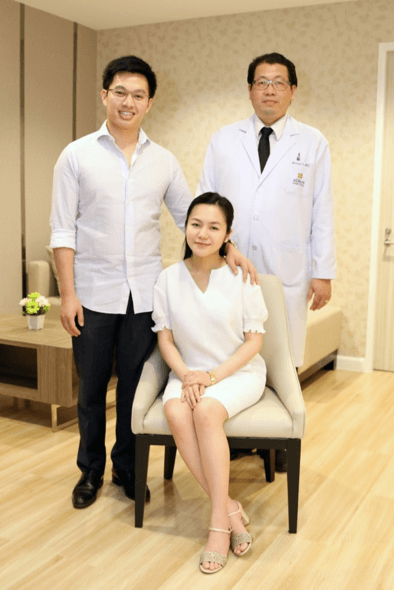 Our babies were born as monoamniotic-monochorionic twins. Only one percent of twins are born this way. Because these cases are rare, it's hard to find a specialized doctor who knows exactly how to handle this situation. If you spend time researching it online, you find out there's a high risk in this treatment. The more you research, the more stressed you can become. It was quite important for us to find a doctor or a hospital where we were confident and comfortable with the care we would receive.
It was quite difficult finding a doctor and hospital with which we were comfortable. At first the twins were not diagnosed as monochorionic-monoamniotic (MCMA or MoMo, for short). In Cambodia, where we're from, they were diagnosed as fraternal, meaning each baby had their own sac.  So the outer sac is one sac, but the inner sac is two sacs; that was something totally different than what we were expecting. Once we were diagnosed in Bangkok with having MCMA twins, a doctor sent us to about five other doctors to confirm. We discovered that, though these doctors were specialists and quite famous in their field, they didn't give the care or the treatment we were required. I'm quite particular so to check and under the detailed process, I read quite a lot. So I understood that there are procedures that need to be done to check to see if both of the twins were healthy, and if everything else was going well. Some of the procedures, such as measuring the cervix hadn't been done and most of the doctors were scared to even handle our case; they handed us off to someone else. When we found Dr. Boonsri, he was opening up a preterm clinic at Samitivej Sukhumvit Hospital. We decided to follow him to Samitivej and it was the perfect decision for us.
On treatment for our monochorionic-monoamniotic twin pregnancy:
Because one of the MCMA risks is umbilical cord entanglement, there is a whole world of new worries. When the twins grow bigger and stronger, the knots from the umbilical cord tighten because they can pull with more strength. This pulling has to be monitored closely, in addition to all of the standard procedures a pregnant woman has to go through. They need to measure the cervix because twins are heavier and they will push down more on the cervix, potentially causing dilation. We didn't fully understand these procedures and the reasoning behind them until we met Dr. Boonsri. He was like a teacher to us because he explained everything in such detail that we fully understood everything. He even showed us Powerpoint slides and he understood that what we were going through was much more complicated than a normal pregnancy.
It's important to reach 24 weeks in a MoMo pregnancy, because at 24 weeks it becomes safe for the babies to be born and to survive outside of the womb because the hospital can keep them well. Once we reached this point in our pregnancy, we decided to come and stay here in Thailand in order to consistently check up with the doctor, in case we had further questions or problems. In Cambodia, we had no one with whom to discuss these issues. After moving here, we met with the doctor once a week, and once we got closer to the due date, we decided to meet on a daily basis.  These meetings included ultrasounds, measuring the cervix, checking to see if my wife had diabetes and many of the other procedures that should take place when a pregnant woman goes in for a check up.
On the delivery of the twins:
At around seven months, we discovered that the heart rate of one of the babies was slowing. We decided to do closer monitoring, and we found out that it was consistently dropping. We discussed steroids for lung development, which is a very important procedure with premature babies, so that they can have fully developed lungs and not have a brain hemorrhage. Three doses of steroids were required. Dr. Boonsri advised we treat the babies with steroids as soon as possible, because problems were better off avoided. Unfortunately, the heart rate continued to drop so the doctor advised us to have an emergency C-section. We didn't have any time to prepare; the doctor didn't have any time to prepare. But within 15 minutes he had called everyone and we had an anesthesiologist, a neonatologist and around 20 nurses ready for the procedure. It says a lot about the hospital that they were completely ready to perform the procedure within 15 minutes and that the procedure went so well.
On our relationship with Dr. Boonsri:
It's difficult to find a doctor that actually cares for you the way you will care for your child. Dr. Boonsri wants you to be successful, not just because he's a doctor, but because he genuinely cares. Dr. Boonsri is someone you can see almost every single day, because he works almost every single day. For our particular situation, we needed to meet with the doctor very often. Throughout the entire process, Dr. Boonsri provided answers and solutions for all of the questions we had and the obstacles we faced. He diagnosed the problem and handled the situation well. He always took our emotions and opinions into account when deciding what the next steps should be. That's what made our relationship Dr. Boonsri go beyond just doctor and patient
Our case was very difficult; it require much more from the hospital. After our babies were transferred to the NICU, there was a nurse watching each baby 24 hours a day. There's a neonatologist on call for 24 hours. After coming in every day and seeing the care and treatment given to each child, and how the hospital handled any problem that arose gave us the confidence that our babies were receiving the kind of care we would want to give them at home.