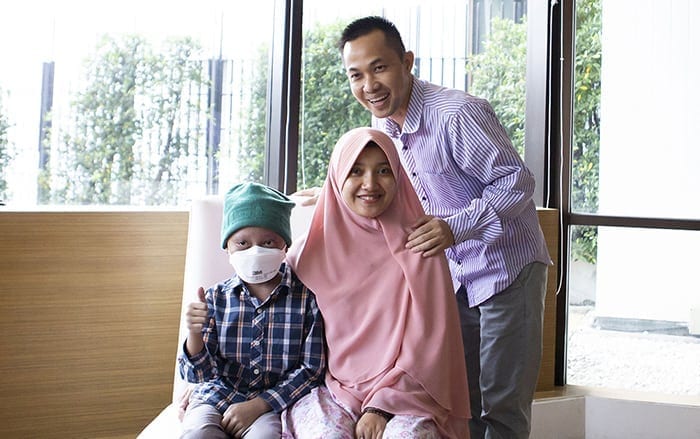 At only 9 months old, Muhammad Kenzie Farras Hazim (Kenzie) was diagnosed with the genetic blood disorder known as Thalassemia. This condition results in the body producing either abnormal strains or inadequate amounts of hemoglobin. With Kenzie's father unable to access the necessary treatment options in his native Indonesia, the decision was made to bring young Kenzie to Samitivej Hospital in Thailand for treatment. Following a bone marrow transplant (BMT) from his younger brother, Kenzie is slowly regaining his strength and is ready to start a new life!
Kenzie's father, Andi Syayuti, kindly talked to us about his son's successful treatment at Samitivej Hospital.
What treatment did Kenzie undergo before coming to Thailand?
Kenzie began his treatment for Thalassemia in Indonesia soon after he was first diagnosed. From the very beginning he had to be moved from hospital to hospital as we tried to find the treatment he needed. In fact for the first three months of treatment, he was transferred to hospitals around the country. This was a challenge for Kenzie and for our entire family. It also meant that the care he received was inconsistent, with each hospital approaching his condition from a different perspective. As Kenzie continued to grow, it soon meant that he was required to enter hospital for treatment every three weeks.
Can you explain the patient care and treatment you received?
To give Kenzie the treatment that he needed to get better, we brought him to Thailand and to Samitivej Hospital. Here the doctors organized for Kenzie to undergo bone marrow treatment (BMT) as this was considered the best way to treat his current condition. I was so glad that we found a way to treat Kenzie and that Samitivej Hospital were so supportive and caring throughout the entire process.
As soon as the treatment commenced, I could feel myself relaxing almost immediately. All my anxieties disappeared and I knew that Kenzie was in good hands. I am excited to know that with this treatment, Kenzie will now have the chance to enjoy his childhood just like any other child.
What was your experience with our staff?
I cannot thank the doctors, nurses and all other staff at Samitivej Hospital enough for everything they've done for Kenzie and for our family. Everyone we've come into contact with has been kind, caring and genuinely interested in Kenzie's wellbeing. The whole time we've been here, I've also felt a sense of comfort and warmth from the staff, something that has really helped to alleviate our stress at this challenging time.
In particular, I'd like to thank Dr. Suradej, Dr. Samart and Dr. Phornchanok for all the help and time that they've given to Kenzie during his treatment. Their genuine concern and commitment has really made us feel like the Samitivej staff is part of our extended family.
How was your experience as a whole?
We couldn't have asked for a better overall experience from our time at Samitivej. The nurses, doctors, administrators and support staff were available whenever we needed anything. Everyone played a role in helping my son to recover from his illness and for that we can't thank you enough!