After suffering a severe injury to his elbow while mount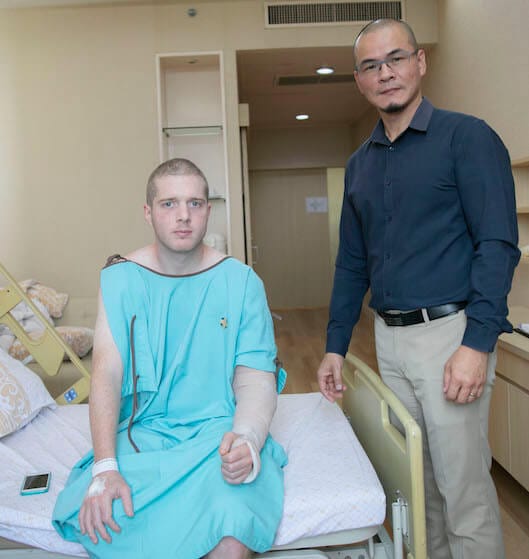 ain biking in Cambodia, David Hynes from the U.K. received emergency treatment before traveling to Thailand where he thought he would receive more professional diagnosis and treatment. However, when his injury failed to heal several weeks after he received treatment, he began to look around for a second opinion. Thanks to a friend's recommendation, David arrived at Samitivej and has now made a full recovery after receiving the correct diagnosis and treatment.
Here we look at David's case in more detail.
How David was injured
David Hynes was mountain biking in Cambodia when he fell off his bike and landed on his left elbow, breaking the elbow and damaging the ligaments. As his insurance didn't cover Cambodia, David only received emergency treatment before traveling back to Bangkok to have the injury treated at a hospital.
The hospital in Bangkok put David's arm in a cast, but after six weeks the injury had still not healed. As David explains, "They told me it worked, but I knew it was still a problem."
Dissatisfied with the treatment he received and worried about his ongoing injury, David began to look around for the best hospitals in Bangkok. That was when a friend recommended he should try Samitivej.
How David ended up having surgery at Samitivej
"I still had a lot of pain and instability in my elbow," said David. "So I made an appointment at Samitivej and met Dr. Cholawish. He sent me for an MRI and explained how he wanted to treat my injury."
David felt that he had finally found a doctor who understood his injury and made him feel confident that it could be treated successfully. "I was very impressed by his level of professionalism and expertise, so I was determined to go through with the surgery."
The treatment David received and his recovery
"The surgery was excellent and I was really impressed with the room and the hospital's facilities," David explained. "It was like staying in a 5-star hotel. I really appreciated the high level of care from both the doctors and nursing team."
David has made a full recovery since his treatment at Samitivej. "It has now been seven weeks since my surgery and my condition has improved greatly. For the first time in two years I can now move my arm without any pain."
David has been back to Samitivej several times since the surgery and is very grateful for the care and advice he has received. "I have seen the doctor several times since the surgery and he has given me lots of great advice and care. He has told me how to strengthen my arm so that it will be even stronger. The level of post-operative care from Samitivej has been outstanding," said David. "I always enjoy coming here and meeting the friendly staff, the nurses and also doctors."
The advice David would give to anyone else in a similar situation
"I would 100% recommend Samitivej Hospital to anyone who needs treatment for any injury or condition," said David. "I have been in many hospitals around the world, but for me this is the best one," he added. "The doctors are extremely knowledgeable and are all experts in their field. The nurses and staff are also extremely friendly and welcoming, and everyone also speaks excellent English, which for me was very helpful."
"I never felt nervous about my surgery and I was very confident with my doctor. He has been very kind and given me fantastic care. I would like to thank everyone at Samitivej for their excellent help and support. Thank you to all the doctors, staff and nurses at Samitivej. I really appreciate the wonderful care you have given me and I will definitely come back here in the future."
How the correct diagnostic tools and professionalism made successful treatment of a long-term injury possible
Associate Professor Cholawish Chanlalit, M.D., is an orthopaedic specialist at Samitivej Srinakarin Hospital in Bangkok. Here he talks about the case of David Hynes, a patient who came to him for help after an injury he had sustained while mountain biking in Cambodia. David had failed to respond to treatment at another hospital in Bangkok.
The background of the case
"David had an accident several months previously and received his diagnosis saying there was no bone fractures and no torn tendons or ligaments," explained Dr. Cholawish. "However, he would experience problems whenever he tried to use his arm or tried to work or bend his elbow. Initially, he was unable to fully flex or extend his elbow. Later, as he started to be able to flex and extend more fully, he experienced problems feeling like his elbow was dislocating or popping out of joint."
Diagnosing the condition
"The fact of the matter was that the tendon on the outside of the elbow was torn and the inside of the bone was fractured as well," Dr. Cholawish explained. "Because of this, the elbow was not completely connected and not in place." This type of condition, if left untrated, can easily develop into elbow degeneration.
"Because of the issues and symptoms David was experiencing, we needed to do a new examination and evaluation," Dr. Cholawish added. "We did a full checkup, reviewed his X-rays and MRI. He had been sent for MRI two or three times unnecessarily, simply due to a lack of understanding of what needed to be looked at or examined. In this situation, my opinion was that he should also undergo a CT scan. After reviewing and processing all the information received from the tests, we were able to conclude that David had a torn ligament on this side here, as well as an impact fracture on the inside of the elbow bones. This was causing elbow instability, meaning that his elbow was moving and sliding out of place, which could cause serious joint degeneration in the future."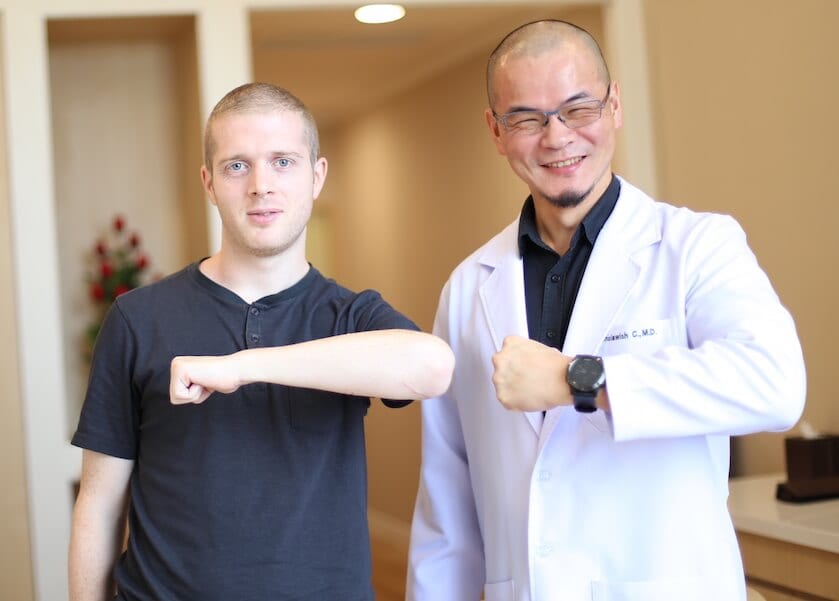 Setting a treatment plan
"We therefore were able to recommend the correct treatment for him—treatment which is helpful for patients suffering from elbow, shoulder or knee problems, including issues of joint space narrowing, joint hypermobility or abnormal joint pain," explained Dr. Cholawish.
These types of issues can be successfully treated and recovery is possible when handled by doctors who have expertise and experience in this specific area. As always, correct diagnosis will lead to correct treatment as. David's issue was all down to incorrect diagnosis before he came to Samitivej.