Nerin is now aged 5 years 5 months
Patwara Panya (Nerin) had a stem cell transplant at Samitivej Children's Hospital in 2014 when she was just 2 years and 5 months old.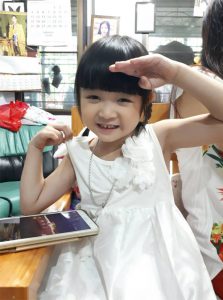 Nerin had previously been receiving blood transfusions from just 11 months old after it was discovered that she had thalassemia. She was very pale and became fatigued very quickly. We were extremely worried about her, so we did some research and found Dr. Suradej. We then searched for more detailed information and soon began to trust this doctor, so decided to attend Samitivej. After Nerin underwent a procedure called Haploidentical Hematopoietic Stem Cell Transplantation, which involved using stem cells from her father, she's now healthy and no longer needs blood transfusions.
Our family is delighted as this stem cell transplant procedure offered a very quick treatment without having to wait for a donor. Thank you very much to the doctors, medical team and nurses at the hospital for the exceptional care and attention given to us at all times.
We can't forget to thank Dr. Suradej, Dr. Pornchanok, Head Nurse Jiraporn and all the other nurses for the excellent care and advice we received during Nerin's hospitalization. We are very impressed, and ongoing will continue to attend the hospital for routine examinations.

Dulayapat Khueankhan (father), Nawapat Panya (mother) and Nerin's family live in Mueang District, Chiang Mai Province.