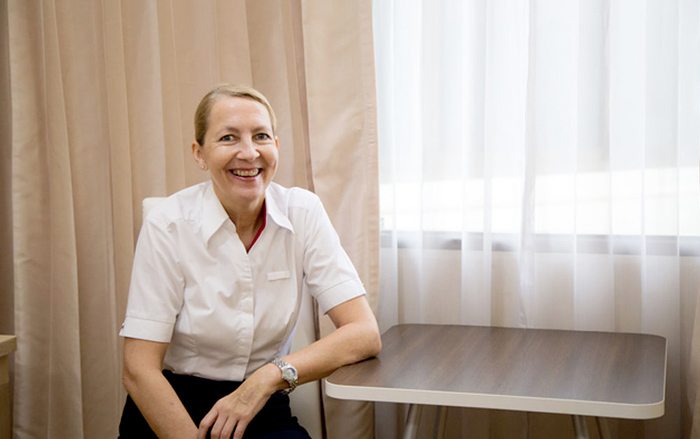 Overcome by the sudden loss of feeling in her legs, Fiona finds comfort at Samitivej
Struck by a sudden and completely unexpected condition that caused her to lose control of her legs and experience intense pain, FIONA BRIDGET ATRACTA was in a state of shock, confusion and anxiety when she was brought to Samitivej. Thanks to a thorough examination that included x-rays, blood tests and an MRI scan combined with the in-depth knowledge of the Samitivej medical team, her condition was quickly diagnosed as Cauda Equina Syndrome with syndrome Tarlov Cyst. Kept informed every step of the way, Fiona underwent emergency treatment that has her well on the way to a complete recovery.
Here, Fiona talks about the whole process and how grateful she is to the entire Samitivej team.
On the the shock of suddenly feeling numbness in her legs
I had burning pain then began losing the feeling in my legs. I felt completely numb from the waist down. It was a strange feeling that came very suddenly. The pain was almost unbearable before I felt completely numb. I couldn't even urinate. As it was an emergency, the ambulance got me to Samitivej and I was immediately seen and assessed by the doctor and nurses. An MRI scan, x-rays and blood tests – a full examination was done to find out what the cause of it was.
On Diagnosis and Treatment at Samitivej Hospital
Originally, the doctor thought it could be a disc compression, but then he realized I had an unusual syndrome. He picked it up right away and then explained to me the importance of having the surgery as quickly as possible. He was quite straightforward and explained everything thoroughly. I knew exactly what was going to go on. I was shown pictures from the MRI, told exactly what the operation would involve. During the treatment, I was taken care of, all the time. It was undeniably a scary feeling as I wasn't expecting any of this, and I'd never had an operation before but, thankfully, it went well. They even did an echocardiogram to make sure that my heart was strong enough for the operation. I mean, they took care of the things that I didn't even think about.
On the recovery period
Well, I'm very positive because I feel so much better than I did. During the recovery period at the hospital, I was monitored by the nurses at all times. I would press the button when I needed something, whether it was when I wanted a sleeping tablet or didn't feel too well and the nurses would attend to me almost immediately. I was really, really well looked after. I cannot thank the staff here enough.
On receiving treatment and care from Dr. Paiboon and his team
Dr. Paiboon saw me immediately. He was the first doctor I saw when I was brought in from the ambulance. He was so professional yet so calm throughout. He was honest about everything, and clarified all my concerns and queries. If he didn't know, he'd say, for instance, "I don't know how long the recovery will take." I am still recovering but obviously, it's a bit better each day, and a lot better than when I came in to the hospital. He's a fantastic doctor. The whole team has been wonderful and extremely helpful. I can't seem to find a fault. Everyone's been amazing. I've had the best of treatments. I really have.
Advice to anyone who may suffer from a similar condition
Get a professional to see it straight away if it doesn't feel right because you maybe right. I felt something was wrong, and I kept saying that this doesn't feel normal. But obviously, I didn't expect to have the problems that I had. I thought it would just go away. You need to get get a specialist to see it immediately and get their advice and opinion. Get those checks done. That's how my condition was discovered, with the MRI scan. If I hadn't had an MRI, I may have not known soon enough. The tests are definitely worth it.
On the experience as a whole
I can't thank the hospital, the people, just everyone, even the administrators enough. It's not just the medical team, but everybody. The food has been fantastic. If I couldn't eat something, they changed it for me. Nothing was too much trouble. I've been really, really well looked after, so my two words for this hospital would be that it's amazing.