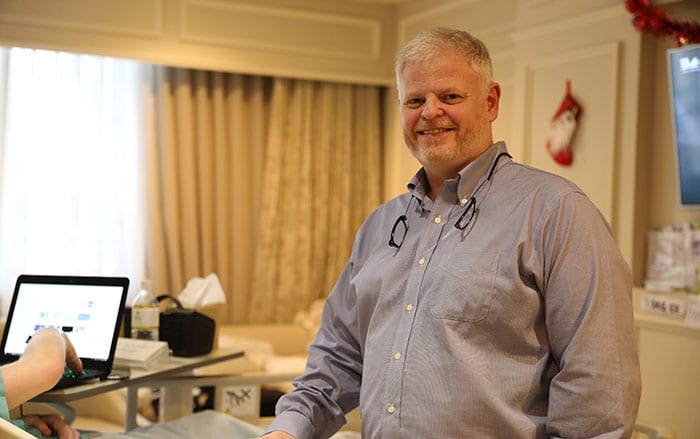 Teitur Tomas Thorlaksson and his girlfriend were enjoying a dream vacation in Thailand. However, things were about to take a sudden and dramatic turn for the worse when the pair were involved in a serious motorcycle accident in Hua Hin. Teitur's injuries were so severe that it looked like he might not survive. Fortunately for the Icelandic tourist, he was stabilized in hospital in Hua Hin and then transferred to Samitivej in Bangkok where he underwent several major operations as part of a three-month treatment, recovery and rehabilitation process. Thanks to the excellent treatment provided by Samitivej's medical teams and the service offered by the hospital's aviation department, Teitur was back home in Iceland in time for Christmas. Here his father talks about how the Samitivej team helped save his son's life.
On the injuries his son had and how he received them
It started with my son being on vacation with his girlfriend in Hua Hin where they had a traffic accident. My wife and I learned about it back home in Iceland in a phone call. We rushed here to Thailand and found them in hospital in Hua Hin where they were seriously injured. My son had severe head injury, a diffuse axonal injury with right basal ganglia hemorrhage, fracture nasal septum, left maxillary sinus, bilateral lung injury, closed fracture of left neck humerus, closed comminuted fracture of left shalt ulnar, fracture of left distal clavicle, closed comminuted fracture of right knee joint injury, atrial flutter and persistent fever.
So, in short, he was in a bad state. His brain was severely injured and swollen. His left side was very badly injured. His right arm was broken. His left leg was broken in two places. His nose, chin bone, shoulder, everything was broken.
Because of the brain swelling, his skull was opened while he was in Hua Hin and after two days, he was stable enough to be transferred to Samitivej. At that time, his condition was really bad and for a few days, it looked like he might not be able to make it through. He was in such a bad state.
On the process of treatment and care after being transferred to Samitivej
Well, we were met by a person who took care of us and brought my son into the x-ray department, where he was x-rayed. Then from there, he was transferred up to the ICU. He was there for almost three weeks. At that time, his main issue was his brain. There was a lot of swelling of the brain. He was in the ICU for three weeks.
On the surgery process
The surgery process was, of course, mostly in the beginning of his treatment. It was his brain. It was so severely swollen. Then after the brain was beginning to get a little better, they had to focus on his other injuries. They performed surgery on his arm, which was broken, and his shoulder was broken in four places and two places in his left bones. And so there were four serious operations in that time. Finally, his skull was closed on October 19, which was three months after the accident. He had to undergo some very serious operations.
On being kept involved and informed throughout the process
This was really very good. It was exceptionally good. From the start, there was a team of doctors who visited him every day. For anything that happened, even if there was just blood samples taken, we always got a new report telling us what was being done and what the result was. Everything was really professional and we were kept updated on the progress every day. When the doctors came and visited him, they spoke with us as his parents and we were kept informed: what was his status, what had been done, what was his progress. We always knew what had happened, and what his current status was and what was likely to be occurring in the future. So we couldn't be happier with that.
On the quality of the medical team at Samitivej and the treatment that his son received
Coming from a Western European country, you're not quite sure what to expect. However, after seeing the status of the hospital in Hua Hin, and then coming here, I was very pleased because the people that greeted us and just showed us around, everything was very professional. Also, the professionalism of the doctors is exceptional. You really don't know what to expect, but from the first minute we came here, we could feel the professionalism and we knew instantly that it was a good place. When it's your child, it is a major issue to know that the treatment is so professional. It's a really good place to be. We are very happy with the professionalism of the doctors and all of them are exceptionally qualified. We were also kept in touch with the doctors in Iceland and we knew that they were happy with the professionalism here, so then that's a double reassurance. We in our heart knew the doctors were good and then we had this confirmation from abroad that they were doing the right thing, so we couldn't have been happier.
On his son's rehabilitation process
Yes, after the medical process, after the doctors had finished their treatments, it was necessary to start the rehabilitation process. In my mind, in both our minds, it has been a very good process. We are very happy with the professionalism here. The rehabilitation team have been doing a very good job and they've been very serious about it. We can feel that my son's in good hands here. Also, when you phone home and ask the doctors there what they would have been doing, they tell us that this is what we would have been doing anyway, so again, this is another reassurance for us that the quality here has been good.
Also, if we had any issues, like if we had to have some service like the visa issues or something that you need outside, we could always go down to the service counter and we have received a very good service there as well. They take care of you. They take your hand and they guide you through the system so you can focus on the patient. And that's a really, really big help for you as a parent and as someone who is abroad. In our instance, we are still running our company while we're here, so it's a good thing to have this assistance from the customer service. We give them our highest thumbs up.
On how his son is being transported back to Iceland
Initially, it should have been our insurance company that gave us the service of bringing him home, but they could not give us the service that we needed. Instead of that, we turned to the medical aviation department in this hospital and they were happy to give us the service. They have been working on this for us. They have been arranging our trip back home. In two days, we will be flying home with the medical team from here. Everything seems to be clicking into place and we are very happy with that result, so I couldn't be happier in that respect.