Thanks to the accessibility of social media, Max has been able to share the story of his battle with scoliosis. Wanchai Rattikaset, the brave 15-year-old boy better known as Max, endured years of suffering because of scoliosis, a condition that can lead to severe deformities of the spine.
When Max was only a small child, his mother and father passed away due to cancer. Thankfully, his grandparents in Rayong were there to raise him.
Max was in good physical health until around the age of nine, when he suddenly fell ill and experienced a high fever. Max's grandmother took sought treatment at several different hospitals, but soon after treatment he would fall ill again. It later became apparent that Max had started to develop abnormalities in his spine. A screening revealed that Max was suffering from scoliosis, a disease the cause of which is still unknown.
During the earlier days of his treatment, Max would visit a doctor working in the hospital near his home in Rayong. He did not undergo surgery for his scoliosis, but was given a back brace to manage the painful symptoms and to stop his spine formation from worsening. This meant that, for a brief period, Max's situation was manageable.
Later, however, Max's painful symptoms returned and his spine became even more crooked, to the point that he could no longer attend school. Max's grandmother took him back to the hospital, but the situation has escalated, and the doctor could no longer offer surgical treatment for Max's scoliosis. His spine was deformed in more than 20 places. The doctor advised that Max seek treatment at a larger hospital in Bangkok, though he warned that such treatment would likely be very expensive.

A life-changing experience shared by Max and his family
Max's relatives decided to take the story of his condition and share it online, in an attempt to raise money to pay for Max's treatment. It was then that Max's life would change forever.
The "Samitivej New Life Fund for Scoliosis," project aims to help children who suffer from scoliosis. When Samitivej heard about Max's story on the TV show, Punfun Punyim (Share the Dreams, Share the Smiles), they arranged for Max to undergo scoliosis surgery free of charge. The operation was carried out at Samitivej Srinakarin Hospital on 5th July 2016, by a team of doctors with specializing in scoliosis surgery and a of rehabilitative doctors led by Prof. Emer. Charoen Chotigavanich, M.D. and Prawit Sukcharoenchaikul, M.D.
Max's strength, and the dedication of his surgical team led to a successful operation. Max's symptoms are now continuously improving, and he has been able to return home and attend school to enjoy the rest of his teenage years.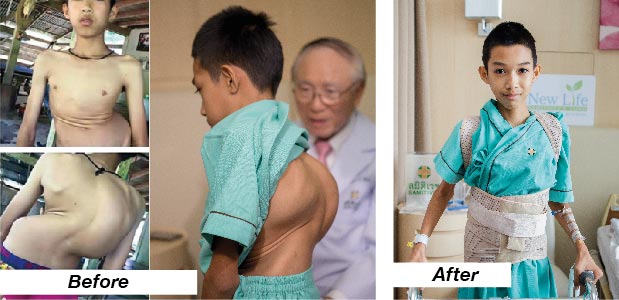 The doctor recommends…always look out for scoliosis symptoms; seek out treatment immediately; and don't be afraid of surgery
Parents should always observe their child's symptoms, and keep a keen eye on the shoulders and chest. If either of these areas appears to be tilted or uneven, or if the body appears crooked and lop-sided, parents should pay close attention. Should the child eventually be diagnosed with scoliosis, the parents should seek immediate treatment. Being afraid of the surgery of ignoring the problem can lead to the worsening of your child's condition. Respiratory, heart and digestive tract problems are only some of the outcomes brought about by lack of treatment.
Treatment for scoliosis in children and adults is very similar. However, much like the old Thai saying goes, "A young branch bends easily, whereas an old branch does not". As a result, treatment results for adults are not always a 100% success. This is because scoliosis in adults must be diagnosed based on whether it has only recently started to produce spine abnormalities, or whether it has produced spine abnormalities since the patient was a child but has been left untreated. Therefore, whether you are an adult or child, you should keep a close look out and regularly check for such abnormalities.
Do you want to know more about scoliosis? Please click here or complete the form below:
Samitivej's New Life Fund
Samitivej's New Life Fund was established to provide underprivileged children with access to high quality surgical treatments. Through the generous donations of the foundation and the hard work of our doctors, children suffering from scoliosis have the opportunity to receive treatment and grow up to be strong, healthy adults.

Learn more about Samitivej's New Life Fund here.