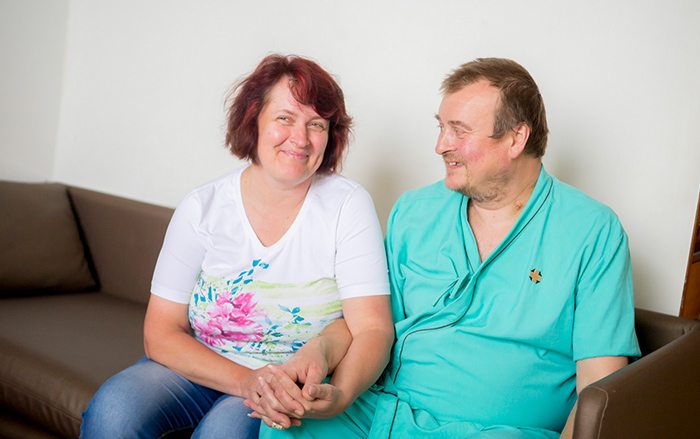 SUCCESSFUL EMERGENCY TREATMENT OF ABDOMINAL AORTIC ANEURYSM
When Finnish national, Juha Taavetti Kaunisto, and his wife, Pirjo Helenius, flew to Thailand to enjoy a holiday on the tropical island of Koh Lanta near Phuket, it was supposed to be their dream vacation. However, things quickly took a turn for the worse when Juha began to experience persistent abdominal pain that failed to respond to treatment at a local clinic.
After flying to Bangkok, Juha's condition continued to worsen and he was brought to Samitivej, where he underwent an ultrasound scan of his abdomen followed by a CT scan, which confirmed his diagnosis of Abdominal Aortic Aneurysm (AAA).
Further examination revealed that Juha was suffering from internal bleeding and had lost 2,600 ml of blood, while he also had a pulmonary embolism, which meant that his condition was critical and potentially life-threatening. Immediate surgery was required, but there was a further complication because Juha's blood type, Rh negative, is extremely rare in Thailand.
While a surgical team led by Vascular Specialist Prof. Piyanut Pootrakool was quickly assembled, an emergency call went out to the Finnish Embassy in Bangkok in an attempt to locate sufficient blood for the surgery. Such was the success of the appeal for blood that the surgery was able to go ahead the same evening and the surplus of donated blood was shared with Thai Red Cross Society.
The surgery was successful and Juha made a full recovery before being given the go-ahead to return home with his wife to Finland.
Here, Pirjo talks to Samitivej about how the situation developed and the treatment her husband received.
On the problems that her husband was experiencing before he came for treatment:
My husband had a lot of problems in the stomach area, a lot of pain in the lower stomach, and also a lot of pain in his back. His face became very pale, with no color at all. Then he couldn't even sit or stand because he started to feel dizzy immediately. He almost fainted, almost lost consciousness.
On how they knew about Samitivej and why they selected this hospital:
We called our insurance company, SOS International, and they recommended this hospital. They said that they have cooperated with Samitivej before and everything has always worked well.
On the advice they would share with other people who may be going through this same situation:
The team is very professional and we were very satisfied with the treatment. The doctors are very thorough with the examinations, and the nurses are meticulous and friendly. We are satisfied in every way.
On the advice they would share with other people who may be going through this same situation:
Well, for us, the surgery and treatments went very well. And the surgery was, as I heard from the staff, challenging, and there was even a possibility that my husband could have died. What I can say is that we warmly recommend this hospital. The treatment of the patients is outstanding and of high quality.