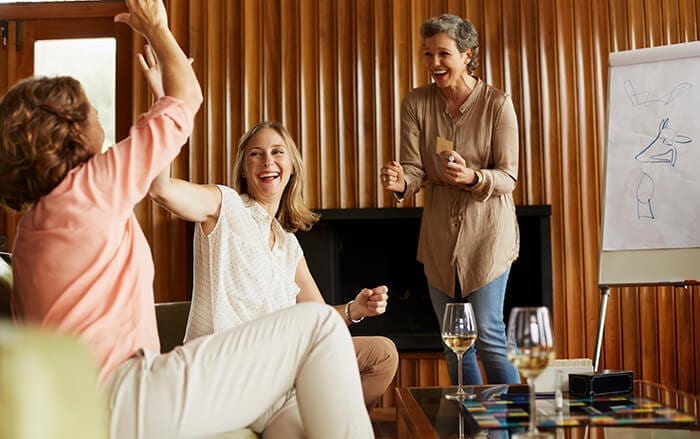 Change can be scary, especially when you feel like you are going through it alone. In the case of experiencing menopause, research has shown that most women do feel alone and unsupported. However, when you are going through such a drastic change in your life, it is always helpful to be informed and know that there are ways that you can navigate the change.
Most women reach menopause at around 50 years of age; a sure sign is having missed your periods for a year. The hormonal imbalance that is different for every woman means that how each woman experiences the symptoms of  menopause will vary. Some women may have a harder time of it while others may go through the entire experience without many symptoms at all.  Regardless, reaching such a significant stage in your life is a perfect time to pause, reevaluate, and take the necessary steps towards getting and staying healthy.
Symptoms of Menopause
Fully recognizing what you and all women might go through during menopause is an important step in embracing the change. While every woman's journey with menopause can be different, here are a few common symptoms:
Fatigue and tiredness

Hot flashes, which can last for months or years especially at night

Rapid heartbeat

Stress and anxiety

Thinning hair

Skin dryness and itchiness

Sweating more than usual

Sleep problems

Weight gain

Vaginal dryness and a lower libido which cause pain during sexual intercourse

Memory lapses

Mood swings and depression

Muscle pain

Digestive and bladder problems
Consulting Your Doctor
After recognizing that you have reached menopause, some women may feel that their symptoms do not warrant a visit to the doctor and may doubt whether there is anything that can be done to help them cope. However, it is important for you to consult your doctor to ensure that what you are experiencing is normal and to discover what potential help you might be able to get during this trying time. Especially after turning fifty, getting yearly checkups is essential. The arrival of menopause increases the risk of diseases such as heart disease, metabolic disease and osteoporosis.
Here are a few areas your doctor will likely discuss with you:
Bone Density – screening for osteoporosis, a disease of the thinning of the bone, which is common among women over 40 years old especially after menopause

Blood Pressure – preventing the risk of strokes, heart failure and kidney problems

Diabetes

Dyslipidemia

Cholesterol

Depression – your emotional health during menopause is equally important as your physical health
Making the Transition
Going through so many changes and the anxiety that comes with those changes can be daunting. It is important to remind yourself that there are steps you can take to help ease the transition. Here are a few tips:
Eating right – it is important to eat healthy foods and to eat regularly. Avoid hot and spicy foods might  make your hot flashes better

.

Focus on whole grains, fruits and vegetables and avoid processed foods.

Keeping yourself cool to help with hot flashes – wear lighter clothing and keep your bedroom cool at night.

Exercise – keep yourself fit and healthy by exercising regularly. Consult your doctor regarding limitations and what kind of exercise is best for you.

Relax – in what can be a stressful time, avoid your own stress triggers. Participate in relaxing exercises or adopt a new and peaceful hobby.

Rest – make sure you do not overwork yourself. Go to sleep at the same time every night and avoid exercising right before bed.

Bad habits – Avoid caffeine, alcohol and smoking.

Get support – this experience does have to be a lonely one. Reach out to your loved ones or other women who are going through the same thing,
It all comes down to three simple mantras: be informed, be healthy and be positive. Change does not always have to be so scary.
References
 A. Vogel : Menopause Health Hub – Menopause Symptoms. Available from

http://www.avogel.co.uk/health/menopause/symptoms/

. Accessed on April 17, 2015.

 The New York Times – Personal Health – Tackling Menopause's Health. Available from

http://well.blogs.nytimes.com/2014/02/10/tackling-menopauses-side-effects/?_r=0

. Accessed on April 17, 2015.

News Telegram – Personal Health – Tackling Menopause's Side Effects. Available from

http://www.telegram.com/article/20140212/NEWS/302129992/0

. Accessed on April 17, 2015
Photo Credit: tafari.anthony via Compfight cc
Recommended Doctor
---