HIGHLIGHTS:
Thyrotoxicosis, means an excess of thyroid hormone in the body which can result in heightened metabolism, could be a factor behind hyperhidrosis (excessive sweating).
Having abnormally sweaty palms does not pose a risk to a person's life but it can affect their emotional wellbeing, as well as their work and relationships.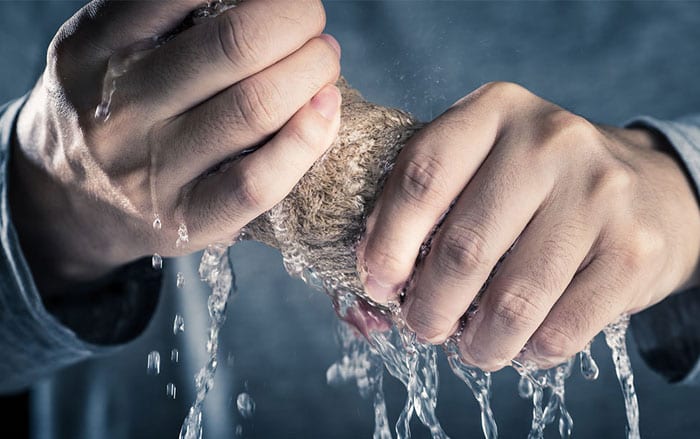 When we speak of "sweaty palms", many people will immediately think about heart disease because it is possible that we may have heard these symptoms mentioned in relation to such a disorder. However, the truth is that abnormally sweaty palms – which are not associated with heat exposure, stress or exercise – could be a symptom of hyperhidrosis, a condition caused by the lymphatic and autonomic nervous systems which are responsible for perspiration control.
Nonetheless, hyperhidrosis tends to affect only some areas of the body, with the palms of the hands, soles of the feet and underarm areas all being possible locations for the sweating to occur.
What extent of perspiration is considered abnormal?
All of us sweat but if that sweating takes on any of the following qualities, it could be a sign of hyperhidrosis:
Clearly visible drops of perspiration despite the weather not being particularly hot.
Stress, excitement or having recently exercised are not the causes.
Perspiring randomly.
Sweating so much that you feel it is having an effect or creating problems in your daily life and at work. For instance, some people may experience so much palm sweat that they are unable to write properly, hold objects or shake hands without feeling embarrassed.
Causes of hyperhidrosis
The causes of this condition can be categorized into the following two main groups:
Causes associated with physical disorders:

People who suffer from this type of hyperhidrosis tend to do so as a result of side effects resulting from other health conditions, such as those with thyrotoxicosis, which causes heightened metabolism; those who are overweight or obese; women who are going through the menopause; and those who are taking some forms of medication.

Idiopathic causes:

Those who suffer from idiopathic hyperhidrosis usually suffer from this condition exclusively. This means that they sweat profusely from certain areas of the body, with the most common places being the palms of the hands, soles of the feet and under the arms. Such sweating occurs due to increased lymphatic system function alongside irregular autonomic nervous system function, which is responsible for controlling perspiration in those areas of the body.
This type of the condition tends to affect younger people and, while there are usually no obvious reasons for their disorder, it has been found to be associated with genetics, meaning that direct relatives or parents may also suffer from hyperhidrosis.
Dangers of hyperhidrosis
Generally speaking there are no dangers posed to the lives of hyperhidrosis sufferers, although there may be some situations where the person's underlying health condition, for instance, thyrotoxicosis can cause problems arising from heightened metabolism. With regard to heart disease, the condition is not the cause of sweaty palms despite what many people believe.
Although hyperhidrosis does not place the sufferer's life at risk, the profuse perspiration it causes can lead to issues related to a person's self-esteem. It can make them feel uncomfortable in most social situations and experience a reduction in their overall quality of life. Hence, if you think you may be suffering from this disorder, consult a specialist to undergo diagnosis and targeted treatment thereafter. Doctors will carefully analyze the type of sweat produced in conjunction with a full body assessment to ensure the treatment they provide is effective and allows the patient to make a confident return to their daily life.
Treatment for sweaty palms may come in the form of antiperspirants that encourage sweat gland function, filling substance injections or iontophoresis electrical stimulation therapy. There are also treatments available that provide long-term relief alongside immediate results, such as thoracoscopic surgery.
---
Related content
Recommended Doctor
---