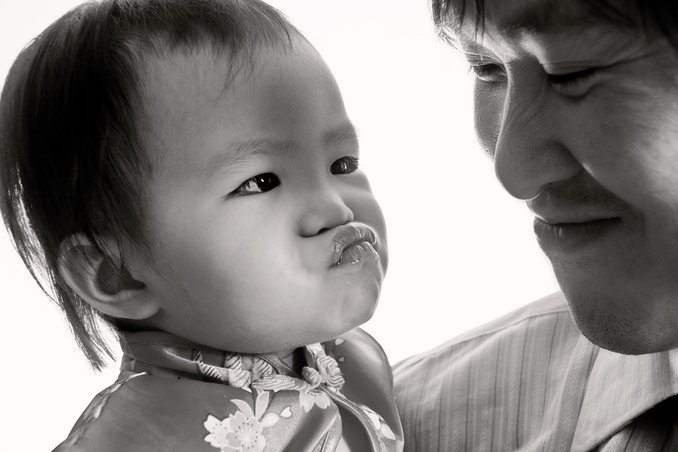 Parents tend to take their very young children (between the ages of six and 12 months) on outings to shopping malls, restaurants, child development centers and visits to friends or relatives. Often, they do this in the hopes that their children can better learn how to express themselves socially. Though it is true that these social interactions can help children to develop a stronger sense of expression, at this young age this method is not optimal.
Children in their first year of life generally begin to remember faces and develop a fear of strangers
Children ages six to 12 months develop the ability to remember the faces of their parents and family members. They also begin to have a fear of strangers, so it is not a good time to take young children to be with a lot of other children or in crowded places. Children in this age range don't know how to play and share things with people with whom they are unfamiliar. They don't know the rules of social interaction; and although they may sit together with other children, they prefer to play alone.
In this age group children can recognize their parents' faces; they also start to fear being parted from their parents and uncomfortable seeing a lot of unfamiliar faces. Pushing them away to be with others may cause them to cry and develop anxiety, leading to a fear of being with others. It is important that parents understand the different stages of their children's development so that they can promote the right development for each age group.
Preparing for social interaction begins with the parent as a role model
Preparing your children for social interaction begins in the family. Parents should strive to understand their children's development, build family relationships, give love and care, and establish confidence, so that their children will feel safe and grow up with confidence and good self esteem, and then they will more enjoy being with other people.  
How to encourage social interaction in children
First and foremost, it is important to understand how children interact socially. Social interaction includes having self confidence, solving problems, helping and dealing with others. Encouraging social interaction in the first year of life does not mean pushing children to be with a lot of people outside of the family.  Social interaction at this age begins with the family. You can encourage social interaction by:
Responding to children quickly
When a child is hungry, sick, in pain, or crying, parents should respond quickly in order for the child to feel safe and secure that their parents are close. Hugs, smiles and attentive interest from their parents make young children feel happy and more confident.
Allowing time for children to adjust
Young children ages six to 12 months begin to remember the familiar faces of family members and develop a fear of strangers. When they are approached by unfamiliar relatives, they may cry, pull away and resist being touched. After several visits, they will gradually become more familiar with the relative and allow themselves to be picked up and held without crying. Relatives should understand that this is all part of a child's early development; it's the age of stranger anxiety so they must allow time for the child to become familiar with them.
When parents take their children outside and someone wants to touch or pick them up, and they refuse and cry due to stranger anxiety, parents should not force their children to do something that they don't want to do because this will likely make their children more fearful, less trusting of their parents, and less willing to be around other people.
Parents' emotional reactions and stability
When children have fearful reactions or cry when approached by strangers, the parents should stay calm, comfort them, and let them know that the new people are alright. Positive introductions can begin with something like "It's Uncle/Auntie … He/she's very lovely" with smiles and a positive tone of voice. Children are then less likely to feel afraid and may let the new people touch them.
Make a family tree with pictures and show it to your children. Let them know who the people are. For example, "Uncle … is mom's elder brother". Also let them know more information about all their relatives. Show them pictures regularly so that the children remember them and are not fearful when they meet them.
Building strong family relationships
In the first year of life, the best social interaction is with the parents and siblings. As such, parents and close family members should build strong relationships by hugging, communicating with a positive tone of voice, and spending time together, so as to create feelings of love and warmth in the family and increase the children's self confidence and happiness.
Have family parties so that the children can develop familiarity with their relatives, such as their grandparents, uncles and aunts. It's a great opportunity for children to get to know, become familiar with, and spend time with their relatives in the comfortable space that is home. More importantly, it helps strengthen family relationships.
Preparing your children for social interaction begins with the family. Parents should respond to their children quickly, and the family should build strong relationships. The children will then be more self-confident and be better prepared to deal with problems and to respect others. It is very important to prepare children for life in society.
Photo Credit: jk+too via Compfight cc
Recommended Doctor
---