HIGHLIGHTS:
Internal factors which lead to premature skin aging include an excess accumulation of free radicals, hormonal imbalances, stress and a deterioration of the genes responsible for skin repair.
External factors that speed up the skin aging process include UV rays, sugary foods, smoking, air pollution and exposure to dangerous chemicals.
There are numerous ways to slow down the skin aging process, such as regular application of sunblock, a diet consisting of vegetables containing high levels of antioxidants, plenty of rest, regular exercise and trying to reduce stress.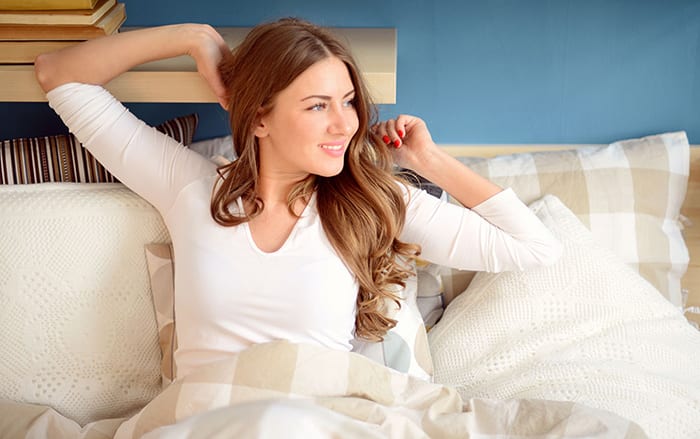 5 Secrets to Wake Up Looking Fresh and Well-Rested
Many people search relentlessly for methods that ensure they can wake up looking fresh and invigorated, so today, I've got 5 secrets I'd like to share with you on this topic.
1.Always remove makeup and cleanse your skin
Cleanliness is extremely important when going through your pre-sleep preparations; we can help our skin to relax by massaging it as we wash our face, while also removing any dirt that accumulated throughout the day. For women, general face wash products may not be sufficient. If you wear makeup, you should be using a cleansing but sensitive makeup remover to help reduce the presence of any makeup that could be trapped inside pores, potentially causing blockages and spots.
2.Never skip your bedtime skin care regime
Your skin care regime is absolutely essential due to skin requiring nutrients and moisture at all times. Try to find skin care products that contain just the right amount of nutrients and moisturizing agents, while being careful to select trustworthy brands. You can use an oil-based lip balm to moisturize your lips, and if you have spots or blackheads, you may want to consult your regular doctor in order to receive advice on suitable medication to treat the condition.
3.Use a smooth and clean pillow case
Pillow cases are often overlooked in this regard with many people waking up looking less than fresh due to their pillow cases being too harsh or irritating to their skin. Try to find a pillow case that is both soft, and the correct fit for your pillow as any excess cloth could lead to irritation of your skin while asleep. Also, don't forget to launder your pillow cases at least once a week to keep them sufficiently clean.
4.Sleep before midnight
The hours between 10pm and 2am are of huge significance to the state of your body as growth hormones – which repair damaged skin cells, leaving skin looking fresh and feeling strong – are produced during this time. Hence, those who regularly sleep late will likely miss out on this window of opportunity!
5.Overcome stress
When getting ready for sleep, try to forget about all the stress of the day and concentrate on breathing rhythmically – similar to how you would breathe when meditating – as you drift off to sleep. This will help you get a better night's sleep, with longer periods of deep sleep. The body uses our time in deep sleep to recalibrate our mood and release the stress which we may have been carrying around with us, and this is another key factor behind great-looking skin as stress is a major cause of skin degeneration.
---
Related content
Recommended Doctor
---