HIGHLIGHTS:
In addition to helping maintain a healthy blood pressure, heart rate, lung function, muscle endurance, and reducing excess fat, running can also help to lower stress levels.
For running in Thailand, the best sunscreen is that with an SPF of 30 or more and a PA level of 3+ or higher (or a PPD rating of greater than 16)
Choosing foods that are rich in beta-carotene, lycopene, polyphenols, anthocyanins and omega-3 fatty acids can help to reduce sun-induced skin inflammation and lessen the risk of premature aging among runners.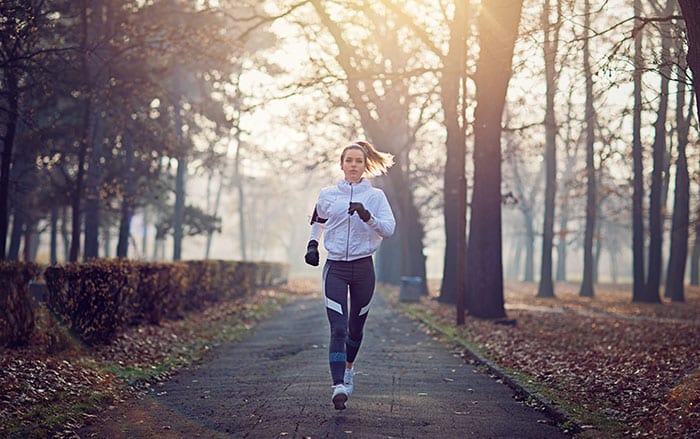 Today, thanks to the many health advantages, running plays a greater part in exercise for many people throughout the world. This is because in addition to helping maintain a healthy blood pressure, heart rate, lung functions, and muscle endurance, as well as reducing excess fat, running also helps to lower stress levels.
Unfortunately, however, running in the sun or at inappropriate times of the day may also damage the skin and cause premature aging. Some tips to help prevent this are as follows:
Choose a sunscreen that provides a high level of skin protection and is sweat resistant.
Choose a sunscreen with an SPF (Sun Protection Factor) of 30 or above (in Thailand, the maximum SPF claim is 50+). The SPF is a relative measure of how long a sunscreen will protect you from ultraviolet (UV) B rays, which are the chief cause of sunburn and reddening.
Choose a sunscreen with a PA level (PROTECTION UVA CLASS is the rating standard from Japan) of 3+ or higher (in Thailand, the maximum PA claim is 4+) as UVA rays can cause freckles and premature wrinkles.
If you're using sunscreen from Europe, the PPD (Persistent Pigment Darkening) rating will be used to measure a sunscreen's amount of protection from UVA rays instead. You should choose a sunscreen with a PPD of 16 or greater. The European Commission defines a good sunscreen as one that, when the SPF is divided by the PPD, has a value of less than 3. If you are not certain of the PPD, you should take note of whether the product contains Mexoryl XL, Tinosorb, Titanium Dioxide, or Zinc Oxide, as these ingredients help to protect against harmful UVA rays.
Choose sunscreen that is water and sweat resistant. There are limitations to this, however, as sunscreens labeled water proof, sweat proof, or water resistant only provide about 40 minutes of water and sweat resistance. Items labelled as very water resistant provide about 80 minutes of water and sweat resistance. The solution to this is to apply sunscreen frequently. If you don't want to have to repeatedly stop to apply more (as I understand this can be inconvenient), try running early in the morning or at times when the weather is cooler.
Choose foods that can help protect your skin from sun damage
Beta carotene and alpha carotene can help protect your skin from sun damage and reduce inflammation. These can be found in carrots, pumpkin, corn, green leafy vegetables, papaya, watermelon, passion fruit and cantaloupe.
Lycopene is an excellent anti-inflammatory that helps to protect the skin from the sun. It also helps to reduce the appearance of freckles. It's found in tomatoes, gac and bell peppers.
The anti-inflammatory effects of anthocyanins also helps with protecting the skin from the sun and reducing freckles. Anthocyanins are present in fruits in the berry family, red grapes and red dragon fruit.
Polyphenols also have anti-inflammatory properties and may be used in the prevention of sunburns as they decrease the damaging effects of UVA and UVB radiation on the skin. They are found in green tea.
Omega-3 fatty acids have been found to protect skin cells against sun-induced inflammation and help keep the skin moisturized even while exposed to sunlight. Omega-3 can be found in flax seeds, various types of nuts, fish oil and fish.
Choose an appropriate time of day for running and make sure you have the proper equipment and items needed to protect your skin
The best way to prevent sun damage is to avoid the intense sunlight between the hours of 9 a.m. to 4 p.m. If you must be out at this time, however, in addition to sunscreen, you should also take other steps to protect against the harmful rays of the sun, such as wearing a hat and sunglasses. This is because the skin around the eyes is delicate and sensitive and sun exposure is known to be a risk factor for macular degeneration and wrinkles.
Select exercise clothing with sun protection properties, distinguishable by the words anti-UV material on the tag, from trustworthy brands. While this may not offer 100% protection, it can help to protect the skin on parts of the body where you are unable to apply sunscreen.
Alternating your outdoor running with running on a treadmill at the gym may also be another option either for some respite from the sun or for those who are particularly worried about sun damage. Finally, don't forget to send these helpful tips and ideas to the people you care about as well.
---
Related content
Recommended Doctor
---