Reward Yourself 2019
Valid: December 1, 2018 - January 31, 2019
Please select the campus that is most convenient to you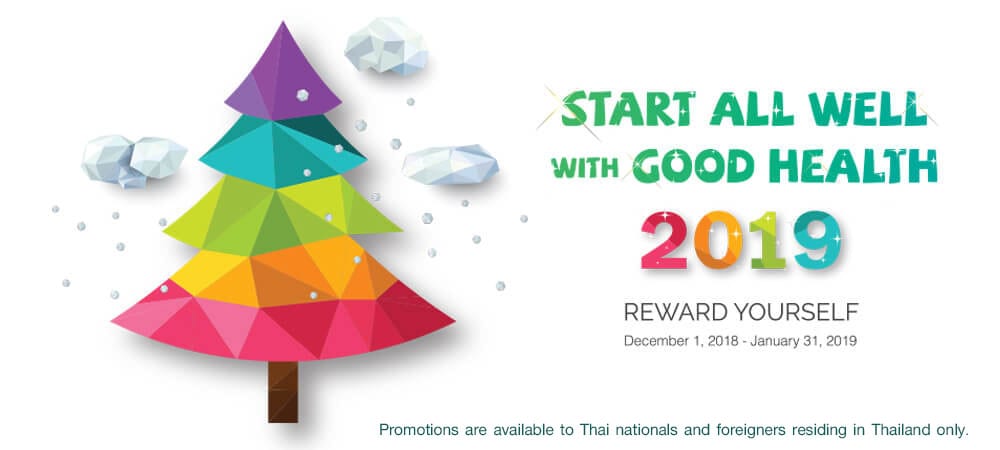 Healthy Basket 2019
Receive a free Starbucks Card valued 200 THB for every purchase of a Healthy Basket 2019
Remarks: 
You may pick up the products or have them delivered two days after the order has been placed.
Products can be picked up at The Villa Market, Sukhumvit 31 Branch, Bangkok.
If you wish to use our staff courier service within Bangkok or Greater Bangkok area, the charge is 90 THB.
---
Remarks:
The promotion period runs from December 1, 2018 – January 31, 2019.
For those who buy the program at the hospital directly. The service can be used until February 28, 2019.
These services are available at Samitivej Sukhumvit Hospital and Samitivej Srinakarin Hospital only.
| | | |
| --- | --- | --- |
| Online Packages | Price (THB) | Select |
| Diabetic Care Basket : For those who wish to control their blood sugar | 3,900.00 | |
| Diabetic Care Basket : For those who wish to control their blood sugar - Delivery | 3,990.00 | |
| Weight Solution Basket : For those who are seeking the solution for weight loss | 5,500.00 | |
| Weight Solution Basket : For those who are seeking the solution for weight loss - Delivery | 5,590.00 | |
| Younger You Basket : For those who wish to become younger in 2019 | 7,550.00 | |
| Younger You Basket : For those who wish to become younger in 2019 - Delivery | 7,640.00 | |
| Brain Foods Basket : For those who wish to nourish their brain | 17,350.00 | |
| Brain Foods Basket : For those who wish to nourish their brain - Delivery | 17,440.00 | |