HIGHLIGHTS:
When selecting an institution to perform your rhinoplasty, be sure to pay careful consideration to its reputation and level of safety, and the expertise of the plastic surgery team, in order to prevent any potential dangers or risk of infection.
It is the plastic surgeon who should advise you on which rhinoplasty technique is best suited to your needs, taking into account the specific dimensions of your face and nose to ensure the correct procedure is carried, leaving you looking and feeling your best.
The benefits of open rhinoplasty are that it can achieve proportionality among the nostrils, bridge and end of the nose, as well as reduce the risk of collapse due to the use of silicone.
For those interested in open rhinoplasty and other surgical procedures, you may make an appointment to consult a surgeon via video call through the Samitivej Virtual Hospital, eliminating the need to visit the hospital itself.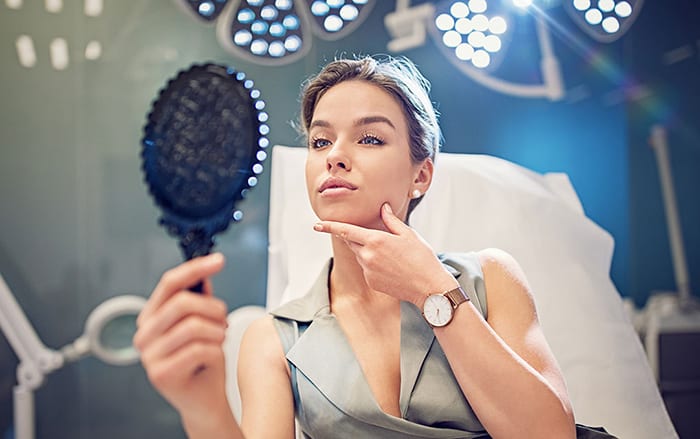 Each of your facial features plays an important esthetic role, because they must all combine for you to look beautiful. Should one of your features be scarred or have a slight disfigurement, it is likely to play on your mind and ultimately affect your self-esteem. The nose is one of the most crucial facial features for many a lady. Noses that are pleasing to the eye are those that are neither too thick nor too narrow, with a long and slender bridge. Such a nose must be highly treasured by women in this day and age given that rhinoplasty is one of the hottest trends around. Innovations have taken place within the field of rhinoplasty, with various techniques now available, including the highly popular open rhinoplasty technique.
How many rhinoplasty techniques are there?
The two main forms of plastic surgery to improve the appearance of the nose are closed rhinoplasty and open rhinoplasty.
What are the benefits and disadvantages of closed rhinoplasty?
Closed rhinoplasty procedures have been popular for many years and are still widely used. The procedure involves an incision being made in either one or both nostrils. Silicone; cartilage, such as from behind the ear or ribcage; or various types of tissue including temporal tissue, skin or artificial skin can then be inserted through the incision(s) to produce the desired shape. The benefits of this technique are that there is no visible scarring left behind, the incision site is prone to only slight swelling, and after care is relatively simple. However, the disadvantage of closed rhinoplasty is that doctors are unable to make drastic alterations to the structure of the nose, so this procedure is only suitable for improvements to the bridge and end of the nose. It is therefore recommended for people who are only looking to make slight improvements to their nose and already have a solid nose structure on which to build. Should closed rhinoplasty be used to significantly expand the nose bridge, it could compromise the thickness of the nose tissue and risk a collapse.
What are the benefits and disadvantages of an open rhinoplasty?
Open rhinoplasty procedures are currently extremely fashionable because they can meet the specific requirements of young women (or men) looking for facial improvements. The technique involves surgeons making two incisions – one underneath each nostril – through which they can make the necessary adjustment in terms of nose shape. Although this technique is highly popular, there are some who view the procedure negatively due to the scarring it leaves behind. However, the scarring from open rhinoplasty actually remains well-hidden due to careful positioning, which means that once healed, other people would find it difficult to find any evidence that surgery had taken place. The potential benefits of this technique include the following: a slender, well-rounded nose; much improved proportionality in terms of the nostrils, bridge and tip of the nose; a solution for crooked noses; extending the nose's length; modifying the nose angle; and, crucially, significantly reducing the chance of a collapsed nose by using a silicone implant.
Nevertheless, there are some disadvantages. The technique is difficult to carry out, takes a longer time in surgery and requires expert surgeons for it to be successful. Moreover, the length of time spent in surgery means that a general anaesthetic is required, resulting in higher costs for the patient.
Types of noses suitable for open rhinoplasty
The doctor in charge will take external and internal aspects of the nose into account when making a decision on which procedure is most suitable, including the nose's bone structure and overall appearance. Potential open rhinoplasty patients must consult with a plastic surgeon so that they understand the procedure in its entirety before deciding on a course of action. What the patient considers beautiful may differ from generally accepted societal norms, and the doctor must analyze whether the desired outcome is realistic before suggesting open rhinoplasty. The types of noses generally considered suitable for open rhinoplasty are as follows:
Small or short noses
Noses that are crooked, dented, irregular or shapeless
Noses that have previously been operated on with unsatisfactory results, thus requiring additional surgery to provide an adequate solution
Noses at risk of collapse
Noses that are out of proportion and require improvement
After a rhinoplasty procedure has taken place, patients must be extremely careful to protect the nose and surrounding areas because the scarring and materials used in the surgery take time to fully set. Should the nose be bumped or touched in this period, it could lead to infection or inflammation. If the nose does begin to swell and fill with blood, patients are advised to seek urgent medical attention.
Getting to know Dr. Teerapat Jaiprasat
Dr. Teerapat Jaiprasat is a highly experienced plastic surgeon whose expertise includes open rhinoplasty procedures. Dr. Jaiprasat graduated from the Faculty of Plastic Surgery, Phramongkutklao College of Medicine, and has studied additional plastic surgery techniques in Korea, including:
Open rhinoplasty at Asan Hospital, Hyundai Mihak Hospital and The Class Plastic Surgery, all of which are based in Korea
Advanced lipofilling, fat transfer and liposuction
Advanced eyelid surgery
Thread lift facial surgery
Breast reconstruction surgery
Make an appointment to consult with an expert plastic surgeon through the Samitivej Virtual Hospital
If you are interested in an open rhinoplasty procedure, you can schedule an appointment to consult with Dr. Teerapat Jaiprasat, expert in plastic surgery, via video call through the Samitivej Virtual Hospital.
The doctor is available every Monday and Wednesday between 10:00 – 12:00, so click on the Live Chat option during those times to contact an official who should be able to connect you.
---
Related content
Recommended Doctor
---