HIGHLIGHTS:
The "New Normal" refers to changes in our daily lifestyles and trends regarding the use of technology, especially in terms of the move to working online, during the Covid-19 pandemic.
Once the Covid-19 danger recedes, we may see a "new normal" consisting of a number of crucial factors, such as healthier diets, changing daily lifestyles, social adjustments, tourism innovations and familial relations.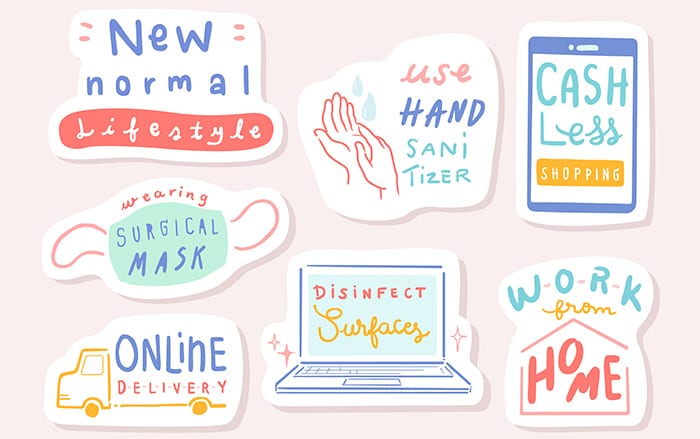 As Covid-19 continues its spread across the globe, many people are dealing with both its physical effects and the financial impact on our working habits and income. These effects are likely to be felt for quite some time despite hopes that countries may be able to make a speedy recovery. The pandemic is not only putting a strain on medical facilities and public health systems, but it is also being keenly felt in economic, social and political arenas. As a result, many countries are rapidly re-evaluating and adjusting to this "new normal." The world is not only dealing with the disruption caused by the disease, but also the need to create a new normal⁠—changes in how we live our daily lives.
Limitations in our personal lives that are necessary for maintaining social distancing measures mean many activities in almost every field have been forced online. This has resulted in a new normal in both our working lives and our social interactions. The way we will think and behave under the new normal once the Covid-19 situation has improved can be categorized into three areas:
Diet, health and lifestyle
Reducing meals eaten outside the home. This means we may purchase takeaway dishes to be eaten at home or utilize food delivery services more frequently. Anyone involved with food preparation should adhere to the following 8-step routine: maintain personal hygiene, wear a mask at all times, carry an alcohol gel and wash hands frequently, regularly clean any containers, keep dishes separate, do not open any containers before arriving at the customer, deliver food immediately, and maintain social distance between delivery personnel and customer.
Cooking and eating at home during the Covid-19 pandemic. Use a separate knife and cutting board for raw meat, cook all foods properly, wash hands between touching raw meat and preparing a cooked dish, avoid consumption of animals that died as a result of illness or disease, and eat cooked dishes immediately (eat them hot). Hands should be washed before and after every meal. Cutlery should only be used individually, with one's dishes kept separate from others, not in shared bowls or dishes⁠—using a serving spoon can increase the risk of spreading disease. Additionally, a distance of between 1.5-2 meters should be maintained while eating, and some may even wish to eat in separate rooms.
Paying more attention to health. Seek out information related to health insurance, maintaining a healthy diet, exercising more regularly and looking to dietary supplements capable of providing essential nourishment.
Diagnosing some health disorders at home instead of visiting a hospital. When an illness is detected, utilize telemedicine services that offer medical consultations and medicine delivered to the home.
Consulting a doctor when symptoms arise and using special devices to screen symptoms at home. There is now a single device available that can analyze heart and lung function, as well as offering an assessment of ear, nose and throat issues as well as skin disorders and can also measure body temperature in just a few simple steps.
Reducing trips to the cinema by watching movies at home on mobile applications.
Carrying out meetings via video call instead of at a physical location.
Sleeping and eating later due to irregular working patterns now that some companies allow their employees to work from home.
Wearing a mask at all times when leaving the home. Masks will undergo continuous development, both in terms of safety standards and design features, to ensure they respond to the individual needs of the user.
Society and tourism
Detailed financial planning to ensure money is not wasted or used in an irresponsible manner.
Reducing physical social interactions. Use masks and implement social distancing at all gatherings. Avoid touching your face with your hands, and carry alcohol gel at all times so that hands can be cleaned after coming into contact with public surfaces or objects.
Avoiding unnecessary visits to shopping malls. Shop online when possible.
Applying strict guidelines at stadiums and sports facilities. Restrict visitor numbers, increase disease prevention measures and clean more frequently.
Reducing long-distance travel. Once the pandemic danger retreats, countries that previously welcomed long-haul visitors may see some changes to their tourism industries. People may be likely to avoid long distance trips in favor of domestic tourism or travel to neighboring countries.
Turning to automation. Airports will begin to use more automated machinery, including issuing tickets online to minimize the number of staff required.
Changing staff uniforms. Air stewards previously used to smart uniforms will be required to wear masks at all times and may even be required to wear PPE when welcoming passengers aboard aircraft.
Reducing human contact. Resorts or homestays will begin installing sound-activated locking systems on doors, as well as enabling room service, which will increase contactless transactions. These locations will also be required to ensure social distancing between guests is maintained and that all rooms are thoroughly disinfected on a daily basis.
Familial relations and friendships
Reducing social gatherings. Hold gatherings in the home instead of outside.
Reducing social behaviors such as kissing and hugging family members after coming home from work or outdoor activities.
Interacting with partners. While kissing and hugging are completely normal behaviors among couples, the saliva that can be exchanged during such practices could contain a myriad of germs and bacteria. If you are confident that you are both safe and free from disease, hugging, kissing and sexual intercourse need not pose an issue, although the safest way to conduct yourselves is to bathe before and after sex to ensure personal hygiene is maintained for both parties. If either party is ill or has a fever, close contact is inadvisable until the symptoms have completely cleared up.
Reducing arrangements to meet or date new people. Saliva and fluids found in the eyes and nasal mucus can all contain viruses, meaning that the chances are extremely high that an infection will be passed on through those substances should any sexual contact take place.
Although this outbreak has caused a whole host of problems, looking at it from a positive perspective will help us to appreciate that many behaviors under the new normal have been beneficial to our world. For example, many natural parks located under the sea, in jungles and atop mountains, which have been temporarily closed and therefore free from human disruption, have shown rapid recoveries, while PM2.5 pollution has seen a 10-30% reduction globally. These are just some of the ways the pandemic has benefited humans around the world.
---
Related Package

---
Related content
References
Recommended Doctor
---