HIGHLIGHTS:
Symptoms of the mystery pneumonia outbreak include fever and difficulty breathing. Chest x-rays also show invasive lesions in both lungs.
If family members or others close to you who have recently returned from areas affected by the epidemic begin to experience symptoms such as a fever, cough, sore throat, nasal discharge and difficulty breathing, they should see a doctor immediately for proper diagnosis and treatment.
You should receive an influenza vaccination annually as this is still a common virus which can also cause a variety of unpleasant complications.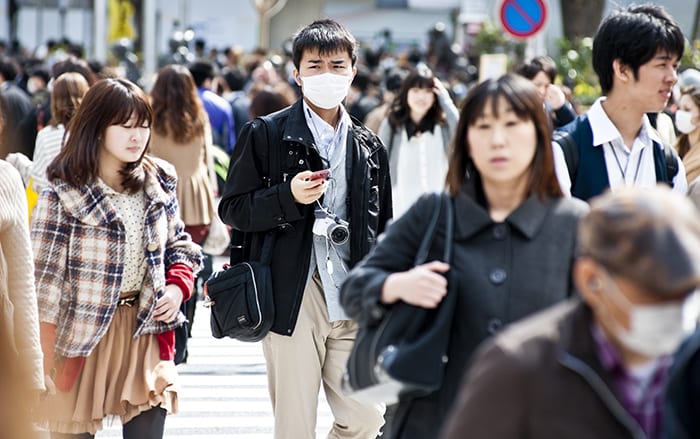 Many people have seen the news about a mysterious outbreak of viral pneumonia, with patients experiencing difficulty breathing and other pneumonia-like symptoms, in the city of Wuhan, the capital of China's central province of Hubei.  As of January 3, 2020, 44 cases had been reported, with 11 of these in such critical condition that many throughout the world linked the outbreak to the SARS epidemic (SARS – Severe Acute Respiratory Syndrome) that killed hundreds of patients over 10 years ago.
Finally, on January 5, 2020, the Wuhan Municipal Health Commission announced that they had excluded the possibility of SARS, bird flu, influenza, adenovirus or MERS, as many people had originally speculated. Additionally, there has been no clear evidence of human-to-human transmission.
According to the World Health Organization (WHO), official sources have stated that some of the patients operated stalls or were employed at the Huanan seafood market.
Patients have been found to exhibit symptoms of fever followed by difficulty breathing, chest radiographs showing invasive lesions in both lungs, common symptoms of respiratory diseases and pneumonia frequently contracted during the winter season. The WHO's recommendations on public health measures and surveillance of influenza and severe acute respiratory infections remain in effect. In the event of any symptoms becoming present, patients experiencing respiratory diseases, either during or after traveling to Wuhan city, China, should see a doctor for a thorough health checkup.
In Hong Kong, 15 patients who had recently traveled to Wuhan are receiving treatment and authorities there are working to contain the spread of the disease.  Warnings have also been issued against visiting wet markets and eating wild game in mainland China. Singapore has also issued inspection measures, with temperature screening at Changi Airport for all travelers arriving from Wuhan. So far, preliminary results show some patients with influenza, the RSV virus and others still waiting for confirmation.
Observe Those Close to You — Any of the Following Symptoms are Not Positive Signs
While the mystery pneumonia cases are still being investigated, and we continue to wait for answers and definite conclusions, we should not be complacent. If you or anyone in your family experience abnormal symptoms, and have recently traveled to a location experiencing the epidemic, be observant and take note of the following signs or symptoms:
Cold: Commonly includes a fever along with a runny nose, blocked nose, coughing and sneezing. Fever usually lasts for about 2-4 days after which it generally goes away on its own.
Influenza (Flu): High fever, severe achiness and pain, along with headache, often followed by a sore throat, cough, and, in some cases, runny nose. Influenza symptoms during the first 2-3 days of sickness are difficult to distinguish from those of pneumonia. If, after 3-4 days, there is still no improvement, a doctor should be seen immediately.
Severe Acute Respiratory Syndrome (SARS): Patients will begin to exhibit symptoms within 2-7 days of infection. Initial symptoms are influenza-like, with a fever above 38 degrees Celsius, headache, fatigue and lung infection that can even be fatal.
Therefore, if anyone close to you or in your family has just returned from China, Wuhan city in particular, and begins to show symptoms of a fever, cough, sore throat, runny nose, and shortness of breath or difficulty breathing, they should see a doctor as early as possible to receive proper treatment in a timely manner.
Prevention of Influenza, Pneumonia and "Mystery Pneumonia"
Eat a healthy diet comprising all 5 food groups, exercise regularly and get sufficient rest.
Wear a mask when out in public or around those who are sick (especially if they are coughing or sneezing).
Wash your hands regularly, clean them with alcohol-based hand gel and refrain from touching dirty things before eating.
Abstain from smoking and drinking alcohol.
Avoid areas with high pollution or concentrated levels of dust, especially high levels of 5.
Do not share items such as handkerchiefs or utensils with others, and refrain from eating together with those who have the flu or common cold.
Avoid traveling to countries or areas with suspected disease outbreaks. If travelling is unavoidable, should wear a mask when around others.
Be sure to receive influenza vaccinations annually, as this is still a common virus which can cause a variety of unpleasant complications.
In particular, children and the elderly should receive pneumonia vaccinations, as this can reduce the chance of disease by up to 75%.
While statements released by health officials regarding this most recent outbreak of acute pneumonia or mystery pneumonia have ruled out SARS, it's wise to remain alert and observant. Be sure to wear a face mask every time you are out in a crowded place, and take note of any abnormal symptoms you may feel. If you experience fever, coughing, and shortness of breath, you should see a doctor immediately for proper diagnosis and treatment.
---
Related Package
Protect Yourself, Protect Your Family

---
Related content
Recommended Doctor
---