HIGHLIGHTS:
The running equipment we take with us, like shoes, clothing, hats and watches, need not be the latest models. Instead, we should use the equipment that we regularly use to avoid issues that could arise due to our unfamiliarity.

Check the race route, as well as the route from your residence to the start line ahead of time. Try to travel the latter route at least once prior to race day. This will provide you a good estimate of how much time you will need for the journey.

Arrive at the race venue around 1 hour before the race is due to start. It will give you time to become familiar, stretch your muscles to protect against injury and reduce your stress levels.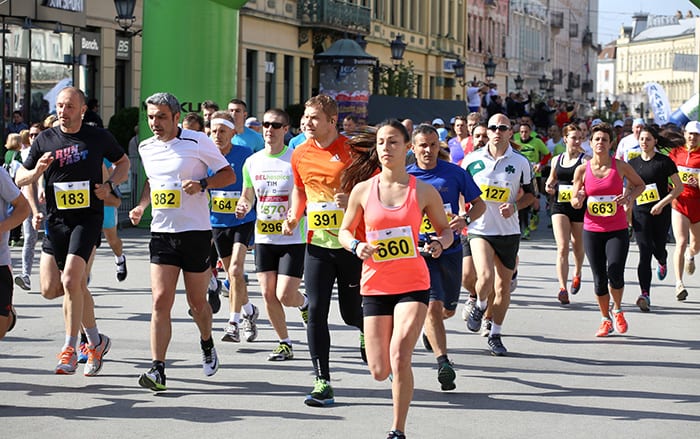 As more people are starting to fall in love with running, marathons are becoming more prevalent throughout the country. However, these events are not limited to Thailand. Many countries around the world are organizing marathons which cater to the needs of this rapidly growing sport.
There are a variety of events and platforms by which one can apply. In larger races, referred to as the Majors, applicants must have run under a specified time related to their age group before they can apply. This time is defined by the (Association of International Marathons and Distance Races (AIMS). An example of such a race is the Boston Marathon. This is a race revered by runners around the world, and on the bucket list of many more.
The Tokyo and Osaka marathons, open to all athletes, rate extremely high on the list of races for Thai runners. However, the number of applicants regularly exceeds the number of slots available. Hence, these races operate a lottery system to aid selection of runners each year. This method actually leads to much excitement around the time of the draw.
Once you have successfully applied to enter a marathon, preparing adequately becomes the next most important aspect. In addition to the intensive training required to prepare the body for a marathon, runners must also pay attention to numerous other aspects.
Passport
First on the list are your travel arrangements. Make sure you have a passport and the relevant visas before travelling.
Race information
Most running events will provide athletes with race information, including the start line location and where to receive your bib. These should be checked carefully prior to the race. Any information related to these aspects is usually sent to athletes via email. You should take your passport along with you to confirm your identity when you go to collect your bib number.
Race route
The details of the race route are usually specified in the event information pack. Where possible, try to compare the race route with a separate map in order to pinpoint various landmarks. This will give you a rough idea of the distance you have already covered during your race.
Hotel location
Hotels located nearby race events tend to become fully booked on the days leading up to the race. However, most countries will have electronic railways or public transport systems in place. It is advised that participants study their route to the event properly before making the journey on the day itself. If possible, athletes should also travel the route prior to the day of competition to calculate the time needed for the journey.
Weather conditions
Check the weather forecast for the race day, and use this information to help you dress appropriately. Additionally, any time differences may have an effect on the time it takes for our bodies to adjust to new surroundings. As a result, this may affect each individual athlete differently. If planning to race in a country in Europe or in the United States, it's best to travel 1-2 days prior to the race to give your body enough time to adjust. I, myself, advise going for an early morning run one day before the race to ensure the body has completely adjusted.
Equipment
New is not always best. Equipment we use regularly and are used to, including shoes, clothing, hats and watches, should be the first items we turn to when racing abroad. If you are afraid of losing your bag or it being subject to delays resulting from air travel, pack everything you will need for the race day in your carry-on luggage. Include some clothes for non-race days to give yourself peace of mind when travelling.
Food, Supplements and Medications
Moreover, take your nutritional supplements, gels and other forms of medication you may need along with you. When eating abroad, you may want to avoid trying anything new prior to the race. Instead stick to familiar food in order to reduce the risk of stomach issues occurring during your race.
Race Day 
On race day, it is advised that you arrive at the start location around 1 hour before the race is scheduled to begin. Some events are extremely strict on screening athletes, which can lead to delays. Furthermore, arriving early will give you time to become familiar and stretch your muscles to prevent injury, which inturn also reduces stress levels.
Finally, race routes are usually packed with spectators cheering you on from both sides. Embrace and enjoy the moment. This new experience is sure to stay with you forever as a treasured memory. After the race, find time for a short, relaxing trip to sample the sights before you return home.
---
Related Package
Sports Enhancement Programs

Fit for Life Check Up

---
Related content
Recommended Doctor
---