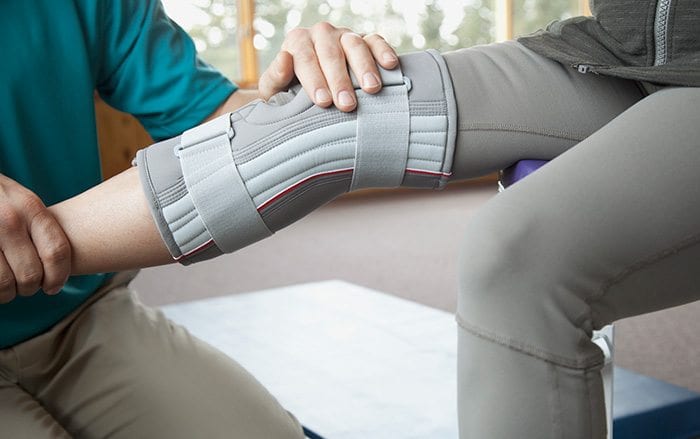 Did you know that 50% of people will eventually experience symptoms of osteoarthritis in at least one joint and most of them will present with osteoarthritis of the knee?  In one survey, for example, it was determined that elderly people over the age of 75 are 85% more likely to develop osteoarthritis than elderly people in general, and among women, rates of osteoarthritis are two times higher than among men. If you ever have the chance to visit an orthopedic ward at any hospital, you will notice that there are many patients, and that many of those patients are receiving treatment for osteoarthritis. Additionally, if you asked one of those patients why they are on the ward, their response would likely be the same: "I've had this condition for a long time, but it was my children and grandchildren who forced me to get treatment." This is because most elderly people who develop osteoarthritis think that they can cope with it or resist it, but in reality, this is rarely the case. In truth, whenever we find ourselves sick or truly injured, we should visit a doctor who can help us recover and ameliorate our symptoms.
Generally, our bones start to weaken when we reach the age of 40. In women, however, the bones and articular cartilage will begin to weaken earlier than in men, due to differences in anatomy and hormones. Men may have thicker and stronger bones and cartilage than women, and for this reason, the muscles around a man's knees will usually be naturally stronger. That fact alone, means that women have a higher chance of developing osteoarthritis. Another factor that plays a significant part  is body weight. Women gain weight more easily than men and are, therefore, more susceptible to developing joint problems.  
The following are symptoms of osteoarthritis of which everyone should be aware:
Feeling pain in the knees

Starting to feel fatigue, tight calves or foldable knee joints

The skin around your knee joints feels warmer or hotter than usual

Symptoms of abrasion and friction around the knees

Inability to stretch or bend your knees fully

Swollen knees, legs bowed inwards or legs bowed outwards

Bones that seem to grow outwards along the edges of the knees
All of these symptoms are signs that you may have osteoarthritis. If you experience these symptoms, it is highly recommended that you see a doctor immediately so that the doctor may perform an x-ray of the knees and treat the symptoms as soon as possible. If osteoarthritis is allowed to develop, the condition will become chronic, and will significantly impact the quality of your daily life. Surgery is not always necessary for treatment; treatment will depend on the severity of the symptoms and on the doctor's diagnosis. If your symptoms are not as severe, then the doctor may recommend that you change certain behaviors and pay more attention to your diet in order to control your body weight and help ease the stress on your knees. Another lifestyle recommendation may be to exercise regularly in order to build muscle around the legs and knees,which will in turn strengthen and reduce the shock on the knees. Additionally, the doctor may also recommend that you avoid sitting with folded legs or bent knees for long periods of time. Lastly, if you are experiencing severe symptoms, the doctor may prescribe a course of medication to reduce pain/swelling/inflammation, as well as another course of medication to maintain joint cartilage. Changes in patient behavior and routines may be necessary. Thereafter, if your symptoms are still severe, the doctor may recommend a surgical treatment called Total Knee Replacement (TKR) surgery,  which can be a partial replacement or the entire knee. The type of surgery required will be at the discretion of the attending physician.
In cases in which knee replacement surgery is required, many patients worry about the pain associated with the operation, including the recovery period. However, medical technology has come a long way, and this type of surgery is now simple, convenient, relatively pain free, and also very safe. Currently, many hospitals and doctors use a method known as Minimally Invasive Surgery (MIS) with Total Knee Arthroplasty (TKA), which is a type of knee replacement surgery that uses only small incisions that cut through as little muscle tissue as possible. It is a surgical technique that uses instruments especially designed for making small incisions, and also helps to avoid operating through the kneecap, thereby allowing for much smaller incisions than traditional surgery. Afterwards, the doctor will introduce a High Flexion TKA as the replacement knee. Using this method of surgery, patients will lose very little blood and feel very little pain during the operation. Patients will then be able to spend less time in recovery, and will need just a short stay in the hospital to physically rejuvenate and return to normal life.
Previously, knee replacement surgery was a heavy burden, but with recent advances in medical technology, it has become a much simpler type of surgery. Today, knee replacement surgery is not something we need to worry about. Not only have medical advances improved the progress of dealing with knee pain, but simply looking after our physical health, as our bones and joints weaken with age help us to see improvements.  If we look after our health earlier on in life, and also watch our diet, eat food that nourish our bodies, and avoid overeating, we will naturally nourish and extend the lifespan of our bones and joints so that we can use them well into our older years.   Moreover, exercise and being physically proactive, as well as maintaining good posture, are some of the ways in which we can prevent our bones from weakening. We cannot simply wait for further advances in medical technology, and for that reason, taking care of ourselves is always the best choice we have to live a life free of sickness and disease.
| | |
| --- | --- |
| | Minimally Invasive Surgery (MIS) – New standard of care for surgical procedures |
Recommended Doctor
---