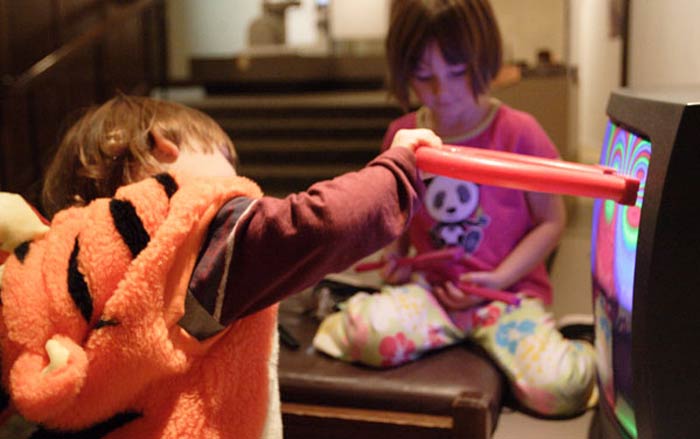 It's fairly common knowledge that too much TV leads to all kinds of problems [http://smtvj.com/1JkeZwn]. From obesity as a result of a sedentary lifestyle to altered brain development, too many hours of passive entertainment a day can wreak havoc on childhood development.
But how much, exactly, is too much? Most adults have rosy, nostalgic memories of bouncing out of bed early on Saturday mornings to watch cartoons; of Friday night at the movies with mom and dad; and of slumber parties with friends around a late-night kid's show.
There's nothing inherently damaging about these rituals. Television, like most things, is simply best enjoyed in moderation, a concept that is becoming increasingly difficult to fathom in our society. According to the National Institute of Health, the average American child watches an average of three hours of TV a day. When you factor in that the same children may spend another two to four hours on the computer, it quickly becomes clear that most of these kids are spending more than a third of their waking hours glued to a screen. That can have serious consequences in the long run.
The important things for parents is to bear in mind are their child's age and developmental stage and monitor television accordingly. Here are the National Institute of Health's current recommendations.
Children less than two years old
Zero. Yes, you read that right. The recommendation for infants and very young toddlers is absolutely zero screen-time during the day. That might come as a bit of a shock to some parents. It's becoming just as common to see a small toddler playing with mom's iPhone or iPad as it is to see them with a doll or toy truck. There are hundreds of educational videos and television programs out there that claim to help children and even babies learn faster.
Yet, although these videos may feature child-friendly characters and earnestly talk about colors, shapes or numbers under the pretense of education, there's virtually no solid scientific evidence to show that they make a positive difference. However, there are studies show that children who mostly watching TV or playing iPhone or iPad will have negative effect on their study including attention span, language development and aggressive behaviour. Passively absorbing this information is no substitute for direct human interaction, active play and constructive problem solving. Get your child a puzzle or a set of colorful blocks and take the time to sit down with them instead.
Children over two years of age
Even over the age of two, experts recommend keeping television time to a relatively modest one to two hours a day. That's plenty of time to watch a movie together as a family, such as some of these titles, but leaves more space for homework and other forms of more creative play.
Doctor's recommendations:
Reading is the best "educational program" for your kids. It benefits your child's early imagination, creativity and helps develop emotional attachment between parent and child.

Try to avoid any movies that contain violent scenes. Many studies have shown a strong correlation between violent programs and violent behavior in children.

If you do want to let your children watch television, stick to cartoons with positive social messages such as

Clifford The Big Red Dog

and

Sesame Street

.  
References.
National Institute of Health: Medline Plus – Screen time and children. Available from:

http://www.nlm.nih.gov/medlineplus/ency/patientinstructions/000355.htm

. Accessed on February 28, 2015.
Photo Credit: The Bakken Museum via Compfight cc
Recommended Doctor
---