HIGHLIGHTS:
Children are prone to accidents, and it can happen at any time, and in any place. The first aid care given at home or on the way to a hospital is therefore, of utmost importance because it can reduce the severity of the injury for the child before they reach a doctor.
A complete first aid kit should be kept at home, and parents must understand how to properly use them, being sure to check the products' expiry date.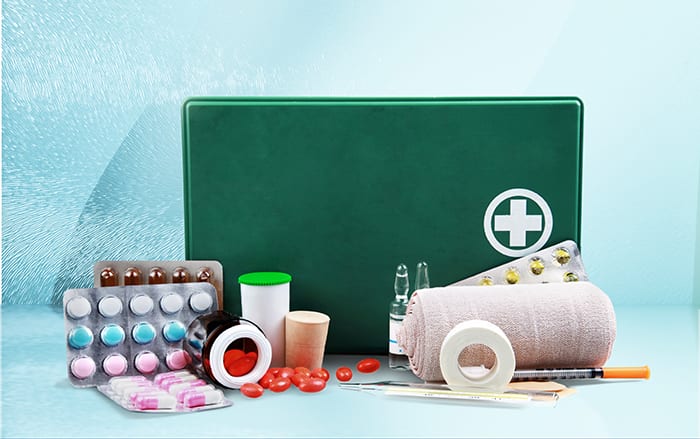 Children are prone to accidents and this makes first aid a crucial aspect to be used to treat a cut, fall, choking incident or any other form of injury. For this reason, understanding what is involved in the provision of first aid, including the aid given at home and outside, as well as knowing which accidents require immediate treatment, or treatment while on the way to hospital is absolutely vital if parents wish to take the most effective steps to minimize the effect of injury on their child.
Equipment necessary to provide first aid
A fully equipped first aid kit should comprise basic items, additional items and some essential types of medicine, and it is also extremely important to understand how each item should be used being sure to always check any products to see if they have passed their expiry date.
Basic items:
Dressing
Bandages
Gauze pads
Safety pins
Easily identifiable watertight box
Eye pads, eye shield and eye patch
Normal saline solution
Additional items:
Alcohol-free wound cleansing wipes
Blanket, flashlight and whistle
Face protection, including a packet and face mask
Disposable plastic bags
Disposable gloves
Scissors
Tweezers
Cotton padding
Adhesive tape
Notebook and pencil
Water bottle
Essential medicine:
Chlorpheniramine
TA milk lotion
Tylenol/Sara/Tempra
Brufen/Junifen
Bactroban and Fucidin
Bisolvon and Flemex
Air-X
Administering first aid can be key to maintaining your child's safety before they reach a doctor. In the case of an emergency situation parents should try to study from various reliable sources of knowledge and information while waiting for professional help. Click here to watch a video about the correct administration of first aid
---
Related content
Recommended Doctor
---