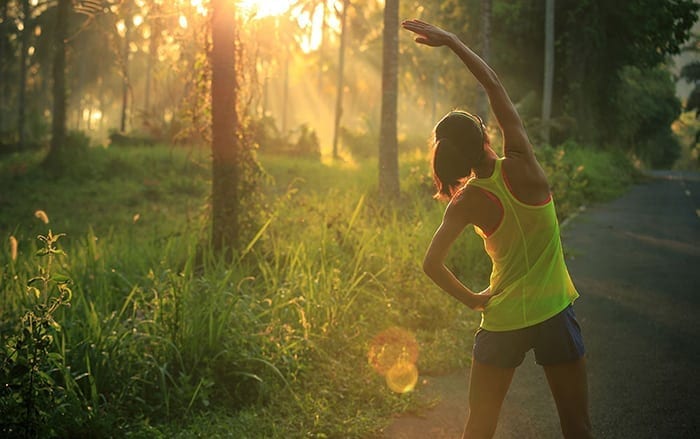 Exercising and staying fit is an essential part of leading a balanced lifestyle. However, in such a hot climate, getting outside and getting started can be tricky. While exercising has its amazing benefits, undergoing any activity in the wrong way, can create unnecessary injuries or trigger an existing problem. Here are a few tips for exercising safely so that you can get started on the path to a healthy life!
1. Prepare well
Know your body. If you are harboring a chronic injury or an unstable condition such as heart disease, asthma, or high blood pressure, make sure you consult your doctor first before starting any new exercise regime. Let your doctor point you towards the kind of exercises or sports you should be doing. Make sure you know what you can and cannot do.
2. Warm up and cool down properly
Take around 10 minutes to warm up and cool down before and after you exercise. Try simple and slow stretches or go through the motions of your activity. Low-intensity activities such as walking or jogging are also helpful.
3. Stay hydrated
In a very hot climate, staying hydrated is essential. Drink every time you are thirsty and do not start your workout dehydrated. Make sure you drink plenty of water several hours before starting. The color of your urine is a good indication of whether you are hydrating properly. If the color is pale, you are drinking enough. If it is a darker shade, drink more. Stay away from high-concentration sports drinks. Only six to eight percent are appropriate as higher-concentration sports drinks are absorbed slowly. Try eating fruits or vegetables instead, while drinking lots of water.
4. Dress accordingly
If you plan on engaging in a particular sport, be certain to dress in the right gear. Keep it comfortable and safe — wear a helmet for cycling and running shoes for running, etc. The material of your clothing should be light enough to release body heat and allow you to move freely. Avoid dark colors and heavy tights. Keep everything breathable. Even though many people work out in cotton t-shirts, specialized shirts and shorts made of fabric that wicks away sweat and dries quickly, is much more comfortable in the long run.
5. Avoid the hottest time of day
Being exposed to extreme heat can lead to heat exhaustion or heat stroke. Avoid doing your exercise at noon. Instead, get up early and exercise in the morning or late in the evening near sunset. To help combat the sun's blaring rays, you should also wear sunscreen.
6. Know your limitations
Exercise puts added stress on many parts of the body, including muscles, bones and tendons. When you exercise repetitively, your body does not have the chance to repair these minor tears. Do not push yourself too far too fast; it can lead to traumatic injuries and a long layoff. Stop immediately if you are hurt; exercising through the pain will make it worse. Do not be ashamed to go slow if you are a beginner. Recognize the limits of your body. If you experience any of  the following symptoms: dizziness, nausea, irregular heartbeat, cramps, or headache, make sure you rest or consult a doctor, if necessary.
7. Rest
Set aside a few days off to recover from pain and fatigue. Remember, do not be overly obsessed with exercising. Its best to ease into it, especially if you are a beginner.
All you have to do is stay prepared and vigilant. Be quick to take the necessary precautions against any minor or major injuries as well as spotting dangerous symptoms. It is important for you to get treatment if you feel things are going wrong. Doing so will spare you from chronic injuries or future sports trauma. Find a doctor you trust and start understanding both the risks and the benefits of what you are doing. If you are injured, consult Samitivej Hospital's Sports & Orthopedic Center for treatment and rehabilitation. Exercise can be healthy and fun, especially if you are doing it the right way. So, what are you waiting for? Get out and get going!
References.
1. Harvard Health Publications:Harvard Medical School – 10 Tips For Exercising Safely Available from: http://www.health.harvard.edu/healthbeat/10-tips-for-exercising-safely. Accessed on April 9, 2015.
2. Pritikin Center: Getting Fit – 6 Tips for Exercising Safely in Hot Weather. Available from: https://www.pritikin.com/your-health/healthy-living/getting-fit/1373-the-heat-is-on-6-tips-for-exercising-safely-in-hot-weather.html#VT2iaCGqpBd. Accessed on April 9, 2015.
3. The Arizona Republic – How to Exercise in a Hot and Humid Climate. Available from http://healthyliving.azcentral.com/exercise-hot-humid-climate-9012.html.   Accessed on April 9, 2015.
Photo Credit: social.englishme via Compfight cc
Recommended Doctor
---