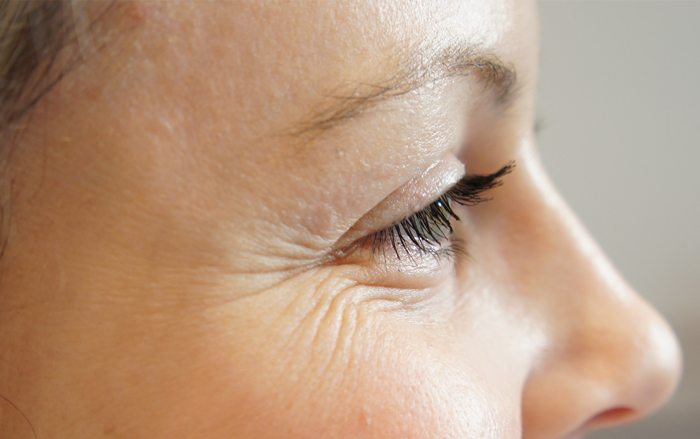 Checklist: 7 habits that cause wrinkles
Frowning

–

Frowning causes early forehead wrinkles.
Smiling

–

Too much smiling may result in wrinkles at a young age.
Sun exposure – Exposure to the sun's UV rays can cause premature aging.
Moody

–

Feeling stressed out stimulates the body to release hormones which affect processes and balance in the body.
Smoking – Cigarette smoke contains chemicals that cause rough and aging skin.
Not drinking enough water

–

Water is essential element of cells and tissues. Drinking enough water allows your body to remove toxins and helps prevent wrinkles.
Lack of sleep

–

Go to bed before 11 pm because the time for body repairs is between 11 pm and 4 am.
What causes wrinkles?

As women approach 30, they start to become concerned about wrinkles. When they get older, the amount of collagen and elastin they produce will decrease. Adding to this, the collagen and elastin are also destroyed by both internal and external factors. One key internal factor is stress, which has an adverse effect on the hormonal system as well as other bodily functions such as the metabolism, digestive system and immune system. External factors include exposure to the sun, air pollution, and the use of cosmetics that are not appropriate for the skin type. The above factors reduce the quality and quantity of collagen fibers and elastin, causing fine lines which will gradually deepen if they are not treated properly.
Women in their early 20s may have wrinkles!!!

Wrinkles tend to occur as a result of facial expressions such as regular smiling and frowning. Facial expressions require small muscle contraction, and these continuous contraction creates wrinkles. Smiling is a beautiful thing and makes people happy, so the answer is not to stop smiling. The appropriate action will be mentioned in the following paragraphs.
Sagging, an instant give away of wrinkles

With the loss of collagen and elastin, plus the pull of gravity, the skin begins to sag. Some people have sunken cheeks facial skin, making them look tired and gaunt. This is caused by the reduction of fat tissue under the skin.
Treating wrinkles with cutting-edge innovation

Effective treatment varies according to the types and causes of the wrinkles. However, all treatment shall be administered under the care of specialists because each innovation has different attributes of performance and specializes in different method.
Samitivej, We Care
For further information, please contact:
Samitivej Esthetics Institute (SEI)
Samitivej Sukhumvit Hospital
Building 2, 5th floor
Tel: 02-022-8519, 02-022-8514, 02-712-6803
Call Center: 66 (0) 2022-8181
E-mail: info@samitivej.co.th
Facebook: www.facebook.com/samitivej
Recommended Doctor
---