HIGHLIGHTS:
Infants should receive a program of basic vaccines from the day they are born until the age of 12 years, according to the Pediatric Disease Society of Thailand's immunization schedule. Following this program will ensure a strong and healthy body, free from disease. Even if they should contract an illness they have received a proper course of vaccinations for, its potency will be severely diminished and will not require a stay in hospital.
The influenza vaccination should be administered annually from the age of 6 months to 18 years, with the first vaccination consisting of 2 injections, 4 weeks apart from one another.
In addition to the basic program of vaccinations that are vital in terms of a child's health, there are some additional vaccines that should also be administered, such as the rotavirus vaccine, pneumococcal vaccinations, measles vaccine and dengue fever vaccination.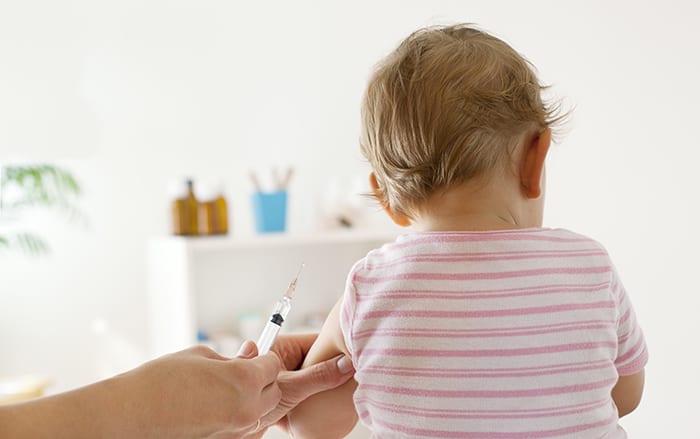 Every child should receive vaccinations at birth, as these provide a boost to their immune system and help them build up immunities to various illnesses and diseases. There exists now a comprehensive range of vaccinations to protect us from disease. Parents should consult a pediatrician regarding basic or essential vaccinations required at each stage of their little one's life.
Essential childhood vaccinations
The Pediatric Disease Society of Thailand has released its vaccination policy in accordance with the Ministry of Public Health, outlining a number of vaccinations that are essential during childhood in order to build immunity at each stage of growth. The vaccinations on this list are as follows:
Tuberculosis (BCG) vaccination should be given to newborns and is usually injected into the left shoulder of the infant. The hospital in charge of the birth tends to administer this vaccination prior to the family's return home.
Hepatitis B (HBV) vaccination is a 3-time course of injections. The first injection is administered at birth, the second injection at 1 month and the final injection at 6 months of age.
Diphtheria, pertussis and tetanus (DPT) vaccination consists of a 3-time course of injections administered at 2, 4 and 6 months, followed by a booster vaccination once the infant reaches 18 months of age. Then, at 4–6 years, infants can receive an additional, specially designed childhood DPT vaccination.
Polio vaccination involves orally administered medicine alongside a course of injections. Regarding the oral medicine, children should be given drops 5 times in total: at 2, 4, 6, and 18 months and at 4 years of age. The injection, offering a boost to their immunity from the disease, is recommended to be given at 4 months of age.
Measles, mumps and rubella (MMR) / Japanese encephalitis (JE) vaccinations should be administered at 1 year of age and then at 2 years 6 months of age.
Influenza vaccination should be administered annually, starting any time between 6 months and 18 years of age. The first vaccination consists of 2 injections given 4 weeks apart.
HPV vaccination can be administered after the child reaches 9 years of age and is capable of offering protection against the human papillomavirus. HPV is a major cause of cervical cancer, being responsible for up to 70–90% of all cases.
Additional childhood vaccinations that strengthen immunity against illness and disease
In addition to the basic program of vaccinations that are vital in terms of a child's health, there are some additional vaccines that should also be administered. The following vaccinations are highly recommended:
Rotavirus vaccination can help to protect children against this illness and can be administered from the age of 2 years and 4 months onwards.
Pneumococcal vaccination offers protection against pneumonia and meningitis. The PCV version of the vaccine should be administered at 2, 4 and 6 months of age, with a booster injection given between 12 and 15 months of age. The PS23 form of the vaccination can be administered to children age 2 and above.
Haemophilus influenza type B vaccine or "hib vaccine" as it is sometimes known, involves a single injection administered on 3 occasions (at 2, 4 and 6 months of age). The vaccine offers protection against a total of 5 conditions, namely diphtheria, pertussis, tetanus, hepatitis B and meningitis (DTwP-HB-Hib).
Chickenpox vaccine is a 2-time course of injections given first at 2-1/2 years of age, and again between the ages of 4–6 years.
Hepatitis A vaccine is another 2-time course of injections, administered 6–12 months apart, with the first injection given once the child reaches 1 year of age.
Dengue fever vaccination is recommended for children over the age of 9. This involves a 3-time course of injections, the second of which is given 6 months after the first, with the third given 6 months after that.
Advice related to childhood vaccinations
Parents should bring their child's vaccination record book with them to all appointments.
Always notify the doctor or nursing staff in charge if your child suffers from any allergies to medication or food, informing them of exactly what it is they are allergic to.
If your child is suffering from a high fever or any acute illness, vaccinations should be postponed until they are well again.
Keep your child in the hospital for at least 30 minutes after the vaccination to monitor for any potential reaction to the medication.
Seeing their child recoil in fear at the sight of needles may cause some parents to avoid taking their little one in to be vaccinated. Meanwhile, other parents may not realize how crucial vaccinations can be and may therefore neglect to attend appointments or act according to their doctor's orders. However, it is vital that parents remain aware of the importance of vaccinations to all children, especially those basic vaccinations mentioned above. Such vaccinations have been deemed essential by the Ministry of Public Health for all Thai children to receive at predetermined stages of their young lives because they can strengthen their immunity against various illnesses and diseases that could potentially place their lives at risk in the future.
---
Related content
Recommended Doctor
---