HIGHLIGHTS:
Serious accidents can occur anywhere, at any time. The administration of first aid and guidelines for transporting patients for further treatment is crucial. When followed correctly, they can significantly reduce injury severity, thereby saving lives and decreasing long-term damage that could otherwise occur.

Extremely serious situations, such as sudden heart failure, respiratory failure and brain injuries, require immediate assessment and care from highly trained and experienced medical professionals.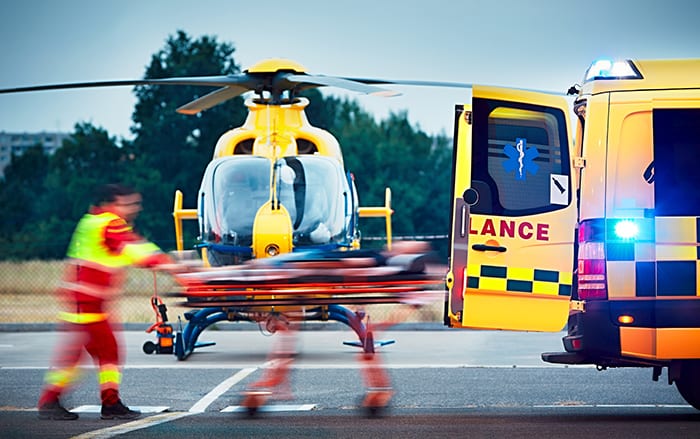 Samitivej Sukhumvit Hospital, Samitivej Srinakarin Hospital and Samitivej Children's Hospital are three of the leading private hospitals among the Bangkok Dusit Medical Services network. They have received accreditation from the Commission on Accreditation of Medical Transport Systems (CAMTS). CAMTS is a globally recognized accreditation system specifically related to the transportation of critical injured patients, including transport by both ground ambulance and air ambulance. CAMTS consists of the two following main organizations: the Commission on Accreditation of Medical Transport Systems (CAMTS) from America, and the Commission on Accreditation of Medical Transport Systems Europe (CAMTS EU) from Europe.
CAMTS criteria
CAMTS criteria cover a large number of aspects, including measures for infection management, measures related to the upkeep and safety of any ground or air vehicles used for transportation, as well as measures associated with keeping the highest levels of safety through communications and cooperation between large numbers of experienced medical staff when transporting patients.
There are also measures related to helipads, measures regarding staff responsible for transporting patients – including pilots and officials who require continuous and rigorous training – and measures associated with the relevant ethical and legal requirements involved with such transportation.
The accreditation also extends to other key organizational factors. These include directional and operational guidelines, the organization's vision and philosophy, keeping up-to-date with regard to the treatment of various conditions, as well as a commitment to quality assurance and constant development within the organization, which includes having risk analysis and prevention systems in place while building an institution aimed at risk prevention. The organization must also have a human resources department alongside a welfare management system for the medical staff involved with the transportation of patients.
In addition to expert medical care, another important aspect in terms of saving the lives of patients involved in accidents and emergencies are the measures in place to transport them. This is because some patients may be located in places that medical staff are unable to reach, or where medical equipment available is insufficient to ensure the patient's safety, meaning that appropriate and urgent transportation is key to provide the treatment necessary to save lives.
The relevant medical equipment is another aspect that cannot be overlooked when transporting patients, with an example being an Extra Corporeal Membrane Oxygenator (ECMO) device, which essentially provides artificial lung and heart function for patients suffering from decreased heart and lung capacity.
The device takes the place of the heart and lungs in terms of pumping blood through the body and oxygenating blood the way lungs would normally do. This device can be of great help in the transport of emergency patients, adults or infants, who have suffered an acute myocardial infarction, heart failure or lung failure. ECMO is capable of preventing organ damage while the patient is being transported for further treatment.
Nevertheless, the hospital preparing to receive the emergency patients must be ready and waiting with a team of doctors and pediatricians specialized in areas such as brain surgery, cardiovascular conditions and respiratory disorders, among others, to provide immediate and effective treatment after receiving the patient.
BDMS Emergency Services (BES) has its accreditation for the transportation of critical patients renewed by CAMTS for the years 2015-2021. Additionally, we have been accredited by the European body CAMTS EU, making us only the 2nd Asian institution and the 3rd in the world to receive this accreditation outside of Europe.
Furthermore, we are the first organization in Asia and the world to receive accreditation for the water transportation of critical patients while also meeting industry standards for all of the following modes of transport used in moving emergency patients: rotor wing, fixed wing, medical escort, surface critical care and surface boat.
BES emergency services center
consists of the following support systems:
Command center and 13 hospitals in the network capable of transporting patients

3 fixed-wing aircraft

2 Sky ICU (rotor wing) helicopters

Medical escort team of doctors and nurses trained in the air transportation of critical patients

Surface critical care consisting of:

Ambulances

Motorlances (motorbike ambulances)

Hydrolances (boat ambulances)
Our team of highly trained medical staff across various fields of patient transport, including the sea transport team, air transport team, land transport team and dispatch team (responsible for helipad maintenance), work alongside a quality assurance team whose duty it is to ensure that the organization adheres to the most up-to-date safety standards, in order to provide the best services with regard to the transport of our critical patients.
---
Related content
Recommended Doctor
---