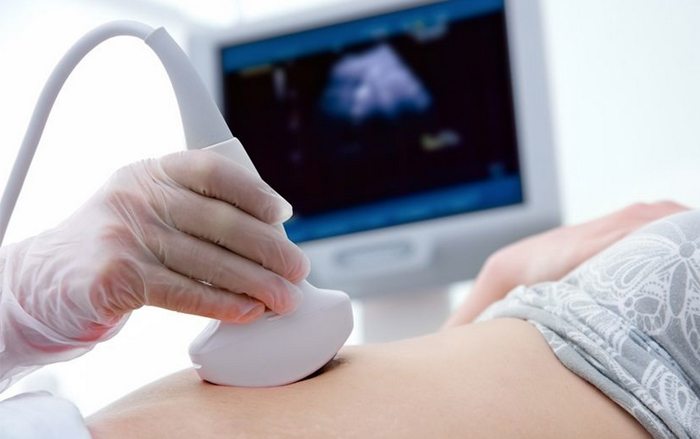 Expectant mothers may be anxious about the presence of birth defects and the health condition of their unborn babies. Nowadays, ultrasound plays an important role as a worldwide recognized means to achieve medical healthcare for mothers-to-be and their babies. A technique used to visualize a fetus in its mother's womb, ultrasound provides an obstetrician with valuable details, including determining the stage of pregnancy, the level of development of the fetus, and the presence of birth defects and disabilities. Besides, it helps the obstetrician evaluate and take care of twins as well as follow up the treatment of certain fetal abnormalities.
Benefiting from advanced technologies, 3D and 4D ultrasound scans are applied in examining the condition of the fetus, in conjunction with 2D ultrasound.
The Definitions of 3D Ultrasound and 4D Ultrasound
How do they differ from 2D ultrasound?
Ultrasound is high-frequency sound waves, which are not radiation. Providing a high level of safety, ultrasound is generally used to create images of an internal body structure in two dimensions (with height and width). A thin cross-sectional image obtained by 2D ultrasound scanning represents the signal of sound waves sent out from a probe. In the present days, a well developed ultrasound machine can produce high-resolution images that can be displayed consecutively in accordance with the motion of the probe (hence, a moving picture). In contrast, a 3D ultrasound machine has a probe that controls multiple 2-dimensional images in different planes in order to create images with a depth dimension, which will be processed by a computer system to render life-like 3-dimensional images. It is noted that they are all still images.
Representing today's state-of-the-art technology, 4D ultrasound is developed by adding the element of motion to still 3D ultrasound images, consequently enabling visualisation of the fetus and its movement in the womb.
The Advantages of 3D and 4D Ultrasound
By producing more realistic images showing fetal physical problems and their locations, the technology enables more accurate diagnosis of birth defects and abnormalities, especially outward structural abnormalities such as cleft lip, cleft palate, tumour, abnormal skull shape, spinal deformities, and limb disabilities.
The diagnosis of the baby's internal organs is performed with more effectiveness as fetal abnormalities can be precisely located. In addition, a tumour size inside the fetus' body can be identified by calculating volume.
Forming a bond between a mother and child, an ultrasound experience is enjoyable and entertaining as the expectant mother has a chance to view her baby and its movements during the examination.
Do 3D and 4D ultrasound scans have any limitations?
3D/4D ultrasound technology has been developed for no less than 15 years, bringing about much more realistic moving images. However, the following conditions are limitations to adequate visualisation of fetal anatomy:
A baby lying face down (causing the difficulty in visualising its face)
A low quantity of amniotic fluid
Part of the fetus' arms, legs or umbilical cord overlapping a specific target area
Besides, to produce 3D and 4D ultrasound images takes several seconds. The obtained moving images are also displayed at a slower pace than those from 2D ultrasound.
Is it necessary for a pregnant woman to have 3D and 4D ultrasound?
Suggestions
Generally, 2D ultrasound is a better and faster way for evaluating the unborn baby's condition and diagnosing its abnormalities due to fewer limitations. However, in case of an abnormality detected by 2D ultrasound, 3D and 4D scan capabilities can help a doctor locate the problem more accurately and make parents-to-be know more about the nature of the abnormality.
Summary
2D ultrasound has been used for no less than 45 years while 3D/4D ultrasound is the latest technology which has been developed and employed for 15 years. Both methods are safe due to the application of sound waves, not radiation. Nowadays, 3D/4D scan is performed in conjunction with 2D ultrasound, which consequently increases the effectiveness of the examination and diagnosis of the fetus. In the near future, it is hoped that technological development will overcome all the limitations of 3D and 4D ultrasound so that obstetricians can give better healthcare for their patients and all expectant mothers will enjoy a better impressive bonding experience with her unborn child through this innovative technology.
The 3D Ultrasound Images of a Fetus in Different Postures
A 13-Week Fetus with a Thick Neck Due to Excessive Fluid Accumulation
and Abnormal Chromosomes
The 3D Ultrasound Images of a Fetus with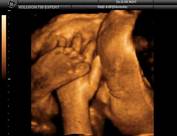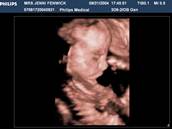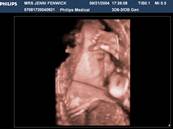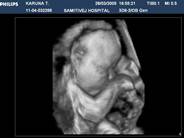 A 13-Week Fetus with a Thick Neck Due to Excessive Fluid Accumulation
and Abnormal Chromosomes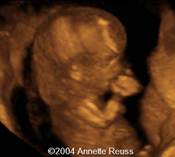 The 3D Ultrasound Images of a Fetus with
Tumours in the Cheek and Near the Chin
(The two images taken from the same fetus)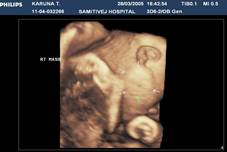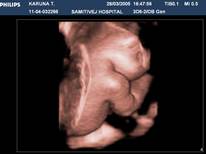 The 2D Ultrasound Images of a Fetus with Macroglossia
Having the Difficulties in Swallowing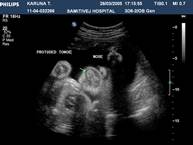 Amniotic Fluid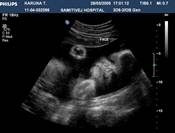 A 3D Ultrasound Image of the Same Fetus as the Previous One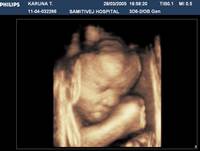 A 2D Ultrasound Image of a Fetus without a Skull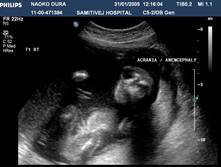 A 3D Ultrasound Image of the Same Fetus without a Skull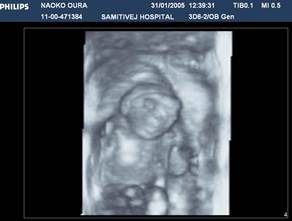 Samitivej, We Care
For further information, please contact:
Women's Health Center (Obsterics and Gynecology)
Samitivej Sukhumvit Hospital
1st Floor, Building 2
Tel: 66 (0) 2022-8494-6
Call Center: 66 (0) 2022-8181
E-mail: info@samitivej.co.th
Facebook: www.facebook.com/samitivej
Recommended Doctor
---