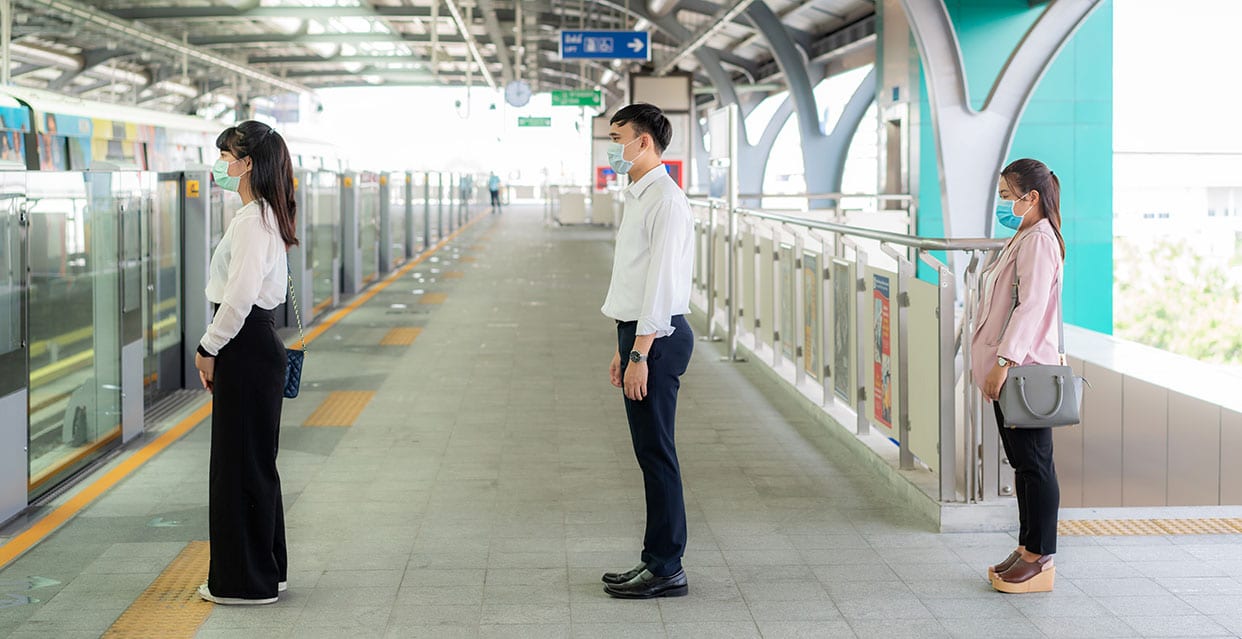 Thailand situation report as of July 13, 2020, at 11:36 p.m.

3,220 confirmed cases
3,090 patients have recovered
58 deaths

The global situation report as of July 14, 2020, at 08:39 a.m.


13,061,792  confirmed cases
571,840  deaths
Source: Johns Hopkins CSSE , and Ministry of Public Health
The Chinese government released new data on the coronavirus (COVID-19 ) situation and acted decisively to quarantine the city of Wuhan to limit the risk of contagion before mass travel associated with Chinese New Year festivities. For day to day situation reports, please follow the links at the end of the article.
Coronavirus COVID-19 has been identified by Chinese scientists. Its origin is most likely animal, however human-to-human transmission has been confirmed. The lessons from the 2003 SARS-CoV instruct extreme caution when making definitive conclusion about the virus severity as it took 2 months for the SARS-CoV to reach its final form.
On 2 March 2020, Thailand's Ministry of Public Health classified eleven countries as high-risk zones for COVID-19 to accommodate forthcoming control measures.
China
France
Germany
Hong Kong
Iran
Italy
Japan
Macao
South Korea
Singapore
Taipei and vicinity
The name coronavirus comes from its shape, which resembles a crown when observed with a microscope. Coronavirus is transmitted through the air and primarily infects the upper respiratory and gastrointestinal tract of mammals and birds. Though most of the coronaviruses only cause flu-like symptoms, SARS-CoV and MERS-CoV can infect both upper and lower airways and cause severe respiratory illness and other complications in humans.
This new COVID-19 resembles SARS-CoV and MERS-CoV and causes similar symptoms. Unfortunately, there is no approved vaccine or antiviral treatment available for coronavirus infection. A better understanding of the life cycle of COVID-19, including the source of the virus, how it is transmitted and how it replicates are needed to both prevent and treat the disease.
ORIGIN
Wuhan coronavirus (COVID-19): First reported in December 2019 in Wuhan, China.
Middle East respiratory syndrome (MERS): First reported in December 2019 in Wuhan, China.
Severe acute respiratory syndrome (SARS): First reported in 2002 in southern China.
Common cold caused by coronavirus: Four coronavirus strains are thought to be responsible for 15-30% of common colds.
---
TRANSMISSION
Wuhan coronavirus (COVID-19): Likely from touching or eating an infected, as yet unidentified animal. Human-to-human transmission occurs through close contact.
Middle East respiratory syndrome (MERS): Often from touching infected camels or consuming their milk or meat. Limited transmission between humans through close contact.
Severe acute respiratory syndrome (SARS): Believed to have spread from bats, which infected civets.Transmitted mainly between humans through close contact.
Common cold caused by coronavirus: Close contact with infected humans or touching a surface that carries the virus.
---
CASES
Wuhan coronavirus (COVID-19): Around 13,061,792 confirmed cases; 571,840 deaths as of July 14, 2020 08:39 am EST
Middle East respiratory syndrome (MERS): 2,494 confirmed cases; 858 deaths (as of Nov. 30, 2019). Mortality rate of 34%.
Severe acute respiratory syndrome (SARS): 8,098 cases; 774 deaths. Mortality rate of about 10%.
Common cold caused by coronavirus: Millions each year. Generally nonlethal with rare exceptions.
Source: World Health Organization, U.S. Centers for Disease Control and Prevention, and Wuhan Municipal Healtd Commission
Credit: Daniel Wood/NPR
Understanding the different types of COVID-19 test:
There are 2 types of test: the first one will determine the presence of the virus in your body by looking for the virus' genetic markers. The second will look for antibodies by your immune system as a response to the virus' presence.
Test
Description
Availability
PCR or reverse transcription polymerase chain reaction (rRT-PCR)
Assesses presence of virus in patient.
Requires respiratory samples via nasopharyngal swab or sputum.
Looks for virus genetic markers: RNA (ribonucleic acid) is extracted from respiratory specimens, amplified using RT-PCR and detected using fluorescent reporter dye probes specific for SARS-CoV-2.
Test results usually require 1-2 days processing time. Due to high volume, this processing time is now up to 6 days in Thai public labs.
Who is it for: PCR is the first line test for patients with risks of contamination.
Accredited by National Lab of Thailand laboratories
Turnaround: 5-6 days
Samitivej Hospital's ARI Clinic
Turnaround: 1-2 days
Blood tests or antibody tests or serology test or rapid test
The test is based on serology test to detect antibodies (IgG & IgM) in the blood serum or plasma.
It requires a blood test.
Results are fast: 15 minutes.
Since the test looks for antibodies, it can't be used in early stages of the disease since the body hasn't had time to produce antibodies yet. However, it can be useful to test a person whose symptoms have subsided since the body will continue producing antibodies after the virus has been eliminated.Who is it for: for patients with long enough exposure that the body has already produced antibodies.
In the research process, awaiting approval.
Others
Chest CTs have a high sensitivity for detecting respiratory symptoms, but low specificity – it is not possible to know whether respiratory symptoms are due to SARS-CoV-2 or other respiratory disorders such as pneumonia. As such, CT-scans are not used as 1st-line diagnostic tools for SARS-CoV-2.
Chest X-rays (CXR) have low sensitivity but have 2 main advantages: capacity and speed. CXR is used in conjunction with clinical history and key blood markers (blood test): CRP and lymphopaenia. CXR is allowing more rapid determination of patients without COVID-19 lung infection from probable cases of COVID-19.
Available
Screening and Prevention Measures for Patients at Risk of COVID-19 Infection
COVID-19 infection. All patients at risk of respiratory disease undergo screening and are placed in isolation in an area separated from other general patients.
We have implemented a standardized and effective screening process for all at-risk patients in accordance with international standards for protection from COVID-19. As a result, every patient receiving services at our hospital can do so confident in their safety.
The standards, steps and procedures for screening at Samitivej Sukhumvit Hospital are as follows:
Daily Situation Monitoring in Order to Prepare Support for Patients
Training programs are carried out to educate physicians and personnel at every level.
Personal protective equipment, including PPE kits and infection prevention kits, is provided to all personnel servicing at-risk patients and/or those in isolation, in order to prevent the spread of infection.
General Screening Tests
Informational materials are provided to all customers, within the hospital and via various media sources.
Entry and exit points are limited in order to screen at-risk patients.
Thermoscan thermometers have been installed to help screen any patients with fever.
Alcohol-based hand sanitizer is provided at every entry and exit point.
All visitors/arrivals are interviewed about their symptoms and travel history to any high-risk countries in the preceding 14 days.
All those who have passed screening and are not at risk will be given a green sticker for confirmation.
We maintain a Service Point for those who wish to be tested for COVID-19 but who are unsure if they have been exposed and/or infected. There is no need to even get out of the car. This Fast Track service point is located on the P1 parking floor.
How to contact Samitivej Hospital's Acute Respiratory Infection (ARI) Clinic:
Steps
Click button to begin consultation
See nurse for initial assessment (free)
If found to be at risk
Schedule a throat swab test (6,500 THB*)
Make payment online
Park at ARI Clinic (P1 Fl.)
Stay in your car while doctor collects the sample
Results available within 24 hours**
Remarks
*Service available only at Samitivej Sukhumvit Hospital only
*Price includes doctor's fees, laboratory fees, medical supplies and hospital service fees
**Short delays may occur in case of high volume of tests
Acute Respiratory Infection (ARI) Clinic is separated from other patient areas at Samitivej Sukhumvit Hospital.
Additional resources: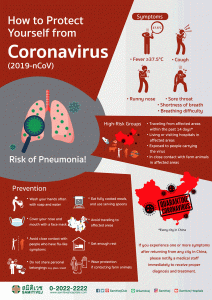 How to Protect Yourself from Coronavirus (COVID-19)
(click on the picture for the bigger image)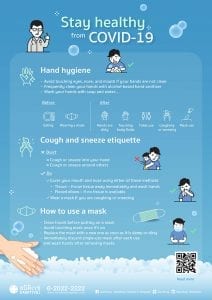 Stay healthy from COVID-19
(click on the picture for the bigger image)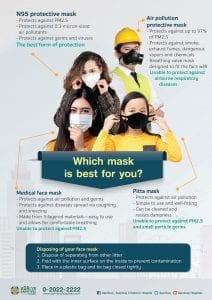 Which mask is best for you?
(click on the picture for the bigger image)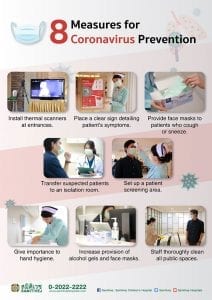 8 Measures for Conovirus Prevention
(click on the picture for the bigger image)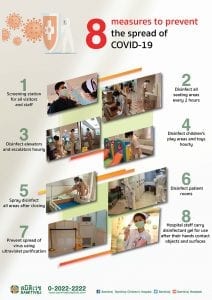 8 Measures to prevent the spread of COVIC-19
(click on the picture for the bigger image)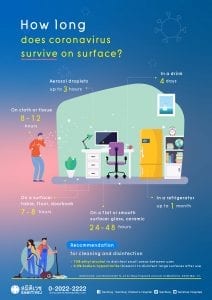 How long does coronovirus survive on surface?
(click on the picture for the bigger image)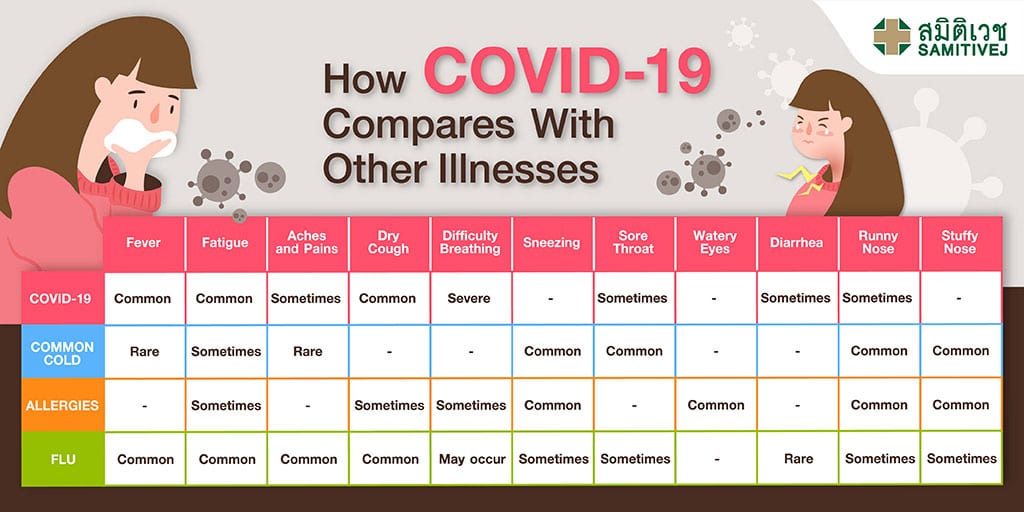 ---
Related Health Package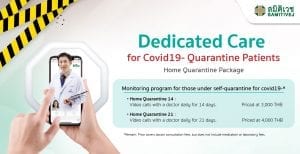 Caring for your health during your COVID-19 quarantine period
Samitivej Hospital offers you our care and attention while you are at home under quarantine for the COVID-19 virus. Video calls with doctors from Samitivej enable close monitoring of your situation throughout the 14-day period. more detail
---
FAQ
About the virus
Symptoms
Transmission
Prevention
Preventive Measures
Travelers
Health Articles
Related Health Package
Protect Yourself, Protect Your Family