Learn About Samitivej's History
Samitivej Hospital has come a long way since its establishment date in 1979, when it was co-founded by the Iate Khun Bancha Lamsam of Kasikorn Bank and M.R. Bajarisan Jumbala, M.D. Their vision was to gather the best doctors and nurses together, supply them with advanced healthcare technology, and provide the best medical care possible to patients and their families.
They envisioned a hospital that would care for patients holistically, not simply concerned with their physical health, but their emotional health as well. It is fitting indeed that M.R. Kukrit Pramoj, a former Prime Minister and a much revered scholar, named the hospital "Samitivej", meaning an "assembly of doctors".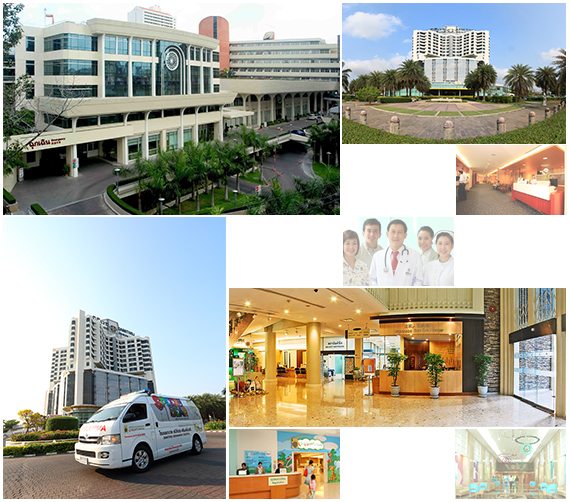 The name Samitivej, and the vision of its founders, have inspired doctors and staff ever since. Today over 2,000 health professionals, practicing in six Samitivej hospitals, are treating patients for problems ranging from minor outpatient illnesses to major procedures such as organ transplants.
Founded in 1979, Samitivej Hospital is one of the leading private hospital groups in Thailand. The main hospital, Samitivej Sukhumvit Hospital located on Sukhumvit Soi 49, is recognized as one of the leading private hospitals in Southeast Asia. Located in the heart of Bangkok, Samitivej Sukhumvit is a 275 bed tertiary care hospital with over 400 specialists. With a comprehensive range of medical technology, complemented by a team of highly qualified specialists and experienced caregivers, Samitivej Sukhumvit has long been the hospital of choice for the population of Bangkok. The hospital boasts a multi-lingual workforce and provides international services such as interpreters and immigration services, offering the highest level of care and convenience for expatriates living in Bangkok and the region
Since its inception, the group has added five more hospitals: Samitivej Srinakarin on the east side of Bangkok, a 154 bed facility near Suvarnabhumi Airport; Samitivej Sriracha, a 138 bed facility located in the industrial area near the Laem Chabang port and the resort town of Pattaya; Samitivej Thonburi, a 150 bed facility providing medical and public health services in Bangkok's Thonburi Province; Samitivej Chonburi, a 57 bed facility serving the eastern region of Thailand, providing emergency services and timely delivery of specialized health care; and Samitivej Children's Hospital, the first of its kind in Thailand.
Samitivej Hospital has a long history of excellent care and innovation. In 1999, Samitivej became the first hospital in Thailand to be awarded the prestigious recognition as a Mother and Baby Friendly Hospital by WHO and UNICEF. Other recognitions include the Prime Minister Award for the Most Recognized Service in 2004, hospital accreditation from the Hospital Accreditation Board of Thailand, and JCI accreditation.
The group continues to innovate and strive towards the highest level of care and safety for our patients, visitors and guests. As a leading healthcare provider, we are fully committed to provide quality care and in bringing the latest medical technologies to our customers. Our community and public responsibilities have been recognized by local and foreign authorities, during times of crisis such as the tsunami and with respect to other social relief activities.